The Best of the Rest: 7 Spot Prizes for Stand-Out Faders
Since this Halloween weekend, we've been giving out our version of candy. We've been handing out piles of well-made denim, boots, belts, wallets, and other incredible prizes from our sponsors.
Each of the faders in our Top 10 have stuffed their sacks full of sweets and treats, and we've still got a ton of candy left in the bowl. Rather than staying up late and gorging ourselves on the leftover sweets, we're going to keep on giving until the bowl is completely empty.
We've turned the porch light back on, and we're calling back seven stand-our faders for spot prizes. The Best of the Best have filled their boots. Now it's time for the Best of the Rest to get their just deserts.
The Best of the Rest: 7 Stand-Out Faders from Y2 of the Indigo Invitational
Just as with our Top 50, Top 20, and Top 20, there were no easy decisions here. We only had seven prizes to give away, and these are the seven pairs that missed the top 10 but, we feel, deserve special recognition.
The Fan Favourite
Tengku Mohd Afiq Tuan Rozani – Iron Heart 666Sib
Tengku sailed into the final with what looked like a strong lead. His Iron Hearts were loved by faders from East and West and everywhere in between. The pair very nearly made our Top 10, but was just edged out by another pair of Malaysian-faded Iron Hearts. The combs are a thing to behold, and he's driven the indigo almost entirely out of the 14oz denim in the thighs and across the seat. We hope Tengku will come back for another shot at the podium in Y3.
We're giving Tengku an Obbigood bag and leather cuff. Congrats for an incredible year of fading, and big thanks to Johnny at Obbigood for the incredible prize.
The Heavyweight
Frederick Vande Weygaerde – SOSO Double Front
We had some heavy pairs in Y2, but nothing can quite compete with the thighs on Frederick's custom pair of SOSOs. He's doubled up the 25oz denim, and, at the beginning of the comp, we thought these things would be indestructible. He proved us wrong. They still look heavy as hell, and there's plenty of life left in them, but he definitely broke their back this year, and he deserves a round of applause (and a fistful of goodies out of the bowl).
We're giving Frederick the indigo-dyed YŪGEN bowl from Ginger Wood (aka Franz Keilhofer). It's a beautiful prize that we know Frederick will display proudly in his home. Congrats to Frederick, and thanks very much to @thedustyfader.
The Grime Fighter
Mohd Hariffin Hashim – Oni 622 Kabuki
Mohd's Onis got a second look, then a third, and then a fourth. A few of our judges singled this pair out for praise, and if we'd had a fifth wild-card slot, these would definitely have been the ones. What we love most about this pair is how they do full and complete justice to the Oni denim. The rope-dyed natural indigo warp and the white weft are in perfect harmony. There's texture, tracks, combs, whiskers—everything. You couldn't ask for more.
We're very happy to be able to single this pair out, and we're giving Mohd a Naked & Famous piece of his choosing. Whether it's a pair of jeans, a jacket, or a shirt, we know he'll do justice to whatever he picks up. Congrats Mohd, and a big thanks to Naked and Famous.
EDC and Shutter King
Chris Newey – Old Blue Beasts
First of all, we've been bowled over by this pair all year. Old Blue is making bigger and bigger waves every year, and we're expecting a strong showing from them in Y3 thanks to their Samurai collaboration. Chris has really brought the best out of his pair, showcasing some of the jewel-toned blues that have become the brand's calling card.
Blues like these aren't exactly easy to capture on film, but Chris is not your ordinary photographer. He's got an exceptional eye, a great set-up, and (most of all) an incredible subject in this pair of jeans and his impressive collection of EDC. He's a man of taste, and we know he'll appreciate the hand-forged Iron Shop Provisions hanger set that we'll be sending him. Congrats to Chris, and big thanks to Josh and Erin at Iron Shop.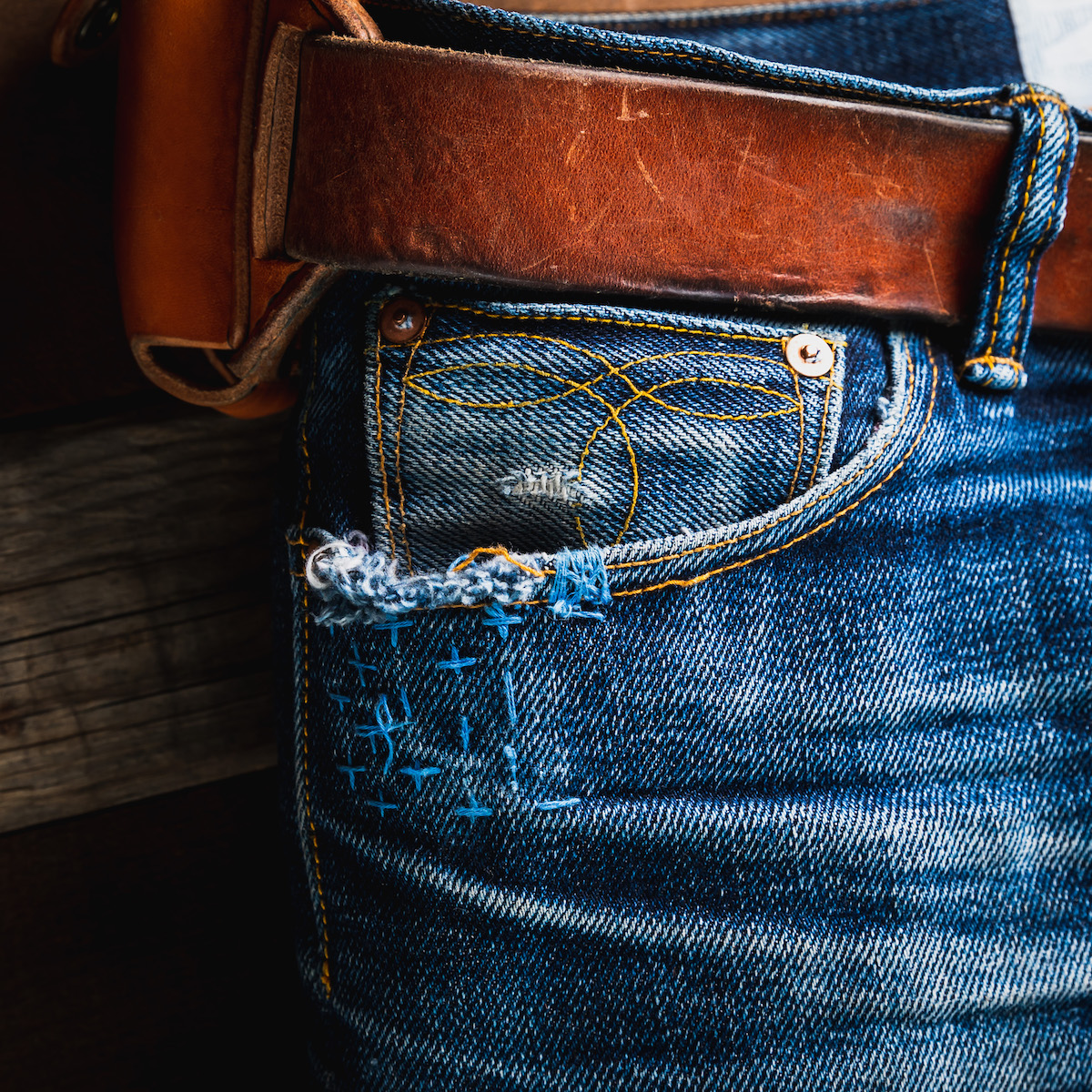 The Shredder
Logan Fleming – American Eagle Carpenter Pants

The pictures speak for themselves. Logan put this pair through absolute hell. With a full day's worth of repair work, these might be salvageable, but I think most of us would agree that this pair has served their owner well and are ready for retirement. It looks like one strong breeze might fully dematerialize them.
We're giving Logan a brand new pair of Nudies of his choice. We hope that they'll put up a bit more of a fight than this pair did. Hope to see you back again for another round, Logan.
Mister Bang For Buck
Nemo – Rustlers
Nemo has been skateboarding his way into all of our hearts since the beginning of the competition. He's shared updates frequently showing him wearing his Rustlers while practicing skateboard tricks at home. The fades have developed slowly, but he's been rewarded for his patient effort.
He picked this pair up for a song at one of his local department stores, and the fades are a testament to the fact that denim is the world's most small-d democratic fabric. You can spend a little and still got a lot of great wear out of a pair.
We still don't know Nemo's name. Nemo means "nobody" in Latin, so we thought it would be appropriate to give our anonymous fader the prize that was donated by an anonymous supporter. We'll be getting him a $250 Railcar Fine Goods certificate. Congrats Nemo, and a huge thanks to our anonymous supporter.
The Punk
Philip Gourkov – OD X JB Dog Days
Proof that sometimes, just sometimes, the squeaky wheel really does get the grease. Philip has been pointing out how his pair are definitely the "most punk" ones out there, and you know what? We've got to give it to him. These repairs make this pair stand out like a mohawk a subway full of rat racers. He treated the lightweight denim like it was a super heavyweight, and the result was an absolutely tattered pair that needed a LOT of help to stand on its own two feet. We've never had anything remotely like it in the competition, so we're happy to give Philip our last prize of the year.
We're giving Philip a 250 Euro certificate for Benzak Denim Developers. We hope we'll see him on the starting line on April 1st in something spectacular from the Dutch denim designer. Congrats to Philip, and big thanks to Lennaert at Benzak.
That's a wrap for the Y2 prizes, but that doesn't mean we're done giving away denim and prizes. Tour De Nîmes will soon be launching the reviews section of the site with a full review of a pair perfect for serious Y3 contenders. We'll be giving away a couple of pairs, so keep your eyes on this space.
Thanks again to everybody who has contributed to this competition's growth in our second year. To all our sponsors, and to all of our competitors, we couldn't have done this without you.
Stay raw, brothers and sisters.