Leaving the Nest: Realign RLGN-R Review
It's a familiar story. In March of 2014, Robin Meijerink (aka Robin Denim) fell head over cuffs in love with raw denim. A friend dragged him to a local shop (Tenue de Nîmes) in Amsterdam. The young student's curiosity was piqued, and he slapped his plastic on the counter, walking out with a pair of Rogue Territory SKs. A few uncomfortable weeks later, he saw the fades starting to emerge, and that was it. Like so many of us, this first experience with raw denim was a turning point. There would be no going back.
Denim now permeates every facet of Robin's life. He is, he says, an unrepentant addict. He wants to share his love with everybody he meets, doing everything he can to create new converts to the world's greatest garment: the raw five-pocket jean. That passion for well-made denim has made Robin one of the most trusted voices in the scene for reviews and commentary, but he knew early on that commentary wouldn't be enough. He wanted to make something—something he could proudly stamp his name on.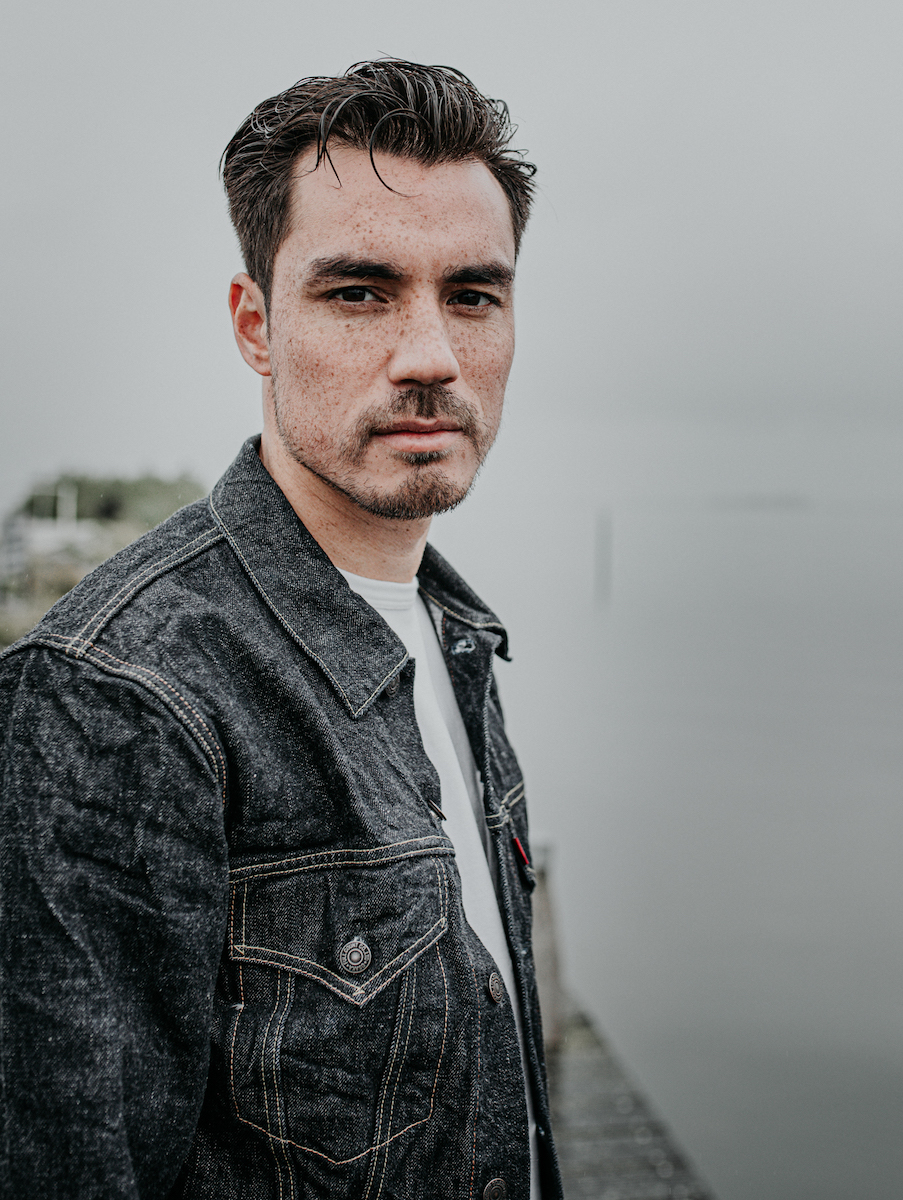 The idea took root in Robin when he just a boy growing up in the Netherlands. His mother owned her own bridal dress shop. She didn't just sell dresses; she made them as well. While he watched her plying her trade, Robin dreamed of one day following in his mother's footsteps. He wanted to make clothes, to have his own brand.
When he found himself falling head-first down the raw denim rabbit hole, he almost immediately started thinking about starting a denim brand. Realign may be brand new to us, but the idea's been percolating for nearly a decade, and he settled on the Realign brand name nearly five years ago. Since then, he's had plenty of names to stamp a Realign badge on a well-made product, but Robin didn't want to leap out of the nest until he knew he was ready to fly. Rather than rushing something that would be good enough into production, he remained patient, waiting for his opportunity to bring something truly special to market.
On a tour of Japan in 2019, he visited Kojima and met with some of the key personnel at Japan Blue Jeans (the parent company of Momotaro). When he saw the skilled denim artisans at work on a batch of Momotaro jeans, he knew immediately that these would be the people he'd partner with to produce his first pair. They soon started discussing design details, and it wasn't long before the first sample pairs landed on Robin's doorstep. While the pairs were beautiful and well made, they weren't exactly what Robin had in mind. It was the same with the second sample, and the third, and so on and so forth. He went through six samples before he felt like he had a pair that he could proudly stamp the Realign brand on.
The reason the process took this long was because Robin didn't want to make Japanese denim. Though every aspect of the production takes place in Japan, he is adamant that Realign is a European brand. Japan undoubtedly leads the way with their artisanal approach to denim, but when it comes to how this denim is cut, Robin feels that Europe has the slight edge. He wanted Realign to be a brand that would align Japanese artistry and European fashion design.
He's done that with the RLGN-R pattern, which has been in the works since Robin took a class that allowed him to build his own pair of jeans from the ground up. For a while, he thought that he would go into the business of denim and manufacture the jeans himself, so he worked with a prominent freelance denim designer in Amsterdam to design a pattern. When he started meeting with Japan Blue's tailors, he brought the pattern out of the cupboard, blew the dust off it, and started tweaking it with the Japanese craftsmen.
Here's what they came up with. We'll start with the raw numbers.
Realign RLGN-R Measurements – Raw
With Variance from Advertised Measurements
| Size 34 | Measurements cm/inches |
| --- | --- |
| Waist | 89 / 35 |
| Front Rise | 30 / 11.75 |
| Rear Rise | 38 / 15 |
| Thigh | 32.5 (-1.5) / 12.75 |
| Knee | 22.5 / 8.8 |
| Hem | 18 (-0.5) / 7 |
| Inseam | 89.5 / 35.2 |
Immediately after measuring the pair, I threw them in the wash, running them through a fast cycle at 30 degrees with no spin. This early wash runs counter to the advice on Realign's website. Robin prefers to keep his pairs dry until those combs and whiskers are fully set, but I like to know for certain that the fade patterns I set on my jeans will stay put when I introduce them to the water.
Based on the how the RLGN-Rs reacted in the water, I'm glad I washed before wearing. There was a little more shrinkage than I expected from sanforized denim. You can see this in the numbers below.
Realign RLGN-R Measurements – Washed
With Variance from Raw Measurements
| Size 34 | Measurements |
| --- | --- |
| Waist | 86 (-3) |
| Front Rise | 28.5 (-1.5) |
| Rear Rise | 37 (-1) |
| Thigh | 30.5 (-2) |
| Knee | 22 (-0.5) |
| Hem | 17 (-1) |
| Inseam | 84 (-5.5) |
While stretching can nullify shrinkage in the waist, inseam length doesn't tend to change much as the denim relaxes. If you normally have your pairs hemmed before you start wearing them, we advise you to wash your pair before you have them shortened. If you're dead set on wearing your pair dry and you need to hem them, count on around 5% shrinkage when making your hemming calculations.
My scientific curiosity drove me to wash them a second time shortly before writing this review. This wash turned out to be entirely unnecessary, but I can confirm that the first wash is enough to get all of the shrink out of them. They had stretched out a cm here and there before their second bath, but they sprang back to the measurements you see above when washed a second time.
The post-soak fit is one of our favourite things about this pair. The RLGN-R features a medium-rise (another cm or so and they'd be entering high-rise territory). The top block is roomy, leaving more than enough room to stuff your hands in your pockets without scraping the skin off the back of your hands. This comfortable fit continues as we move down through the thighs and the calves, with the cut nicely following the natural tapered shape of the leg. They're comfortable, allowing complete freedom of movement, but they don't feel loose anywhere.
Those with meatier thighs who find Japanese tapered fits like the Full Count 1109 or the Momotaro 0105 a little too tight through the thigh may find this fit a revelation. Those slim of thigh (like me) might feel inspired to hit the squat rack a little harder than usual to try to really fill this pair in. but they might also enjoy the touch of extra room from navel to knee that this pair affords.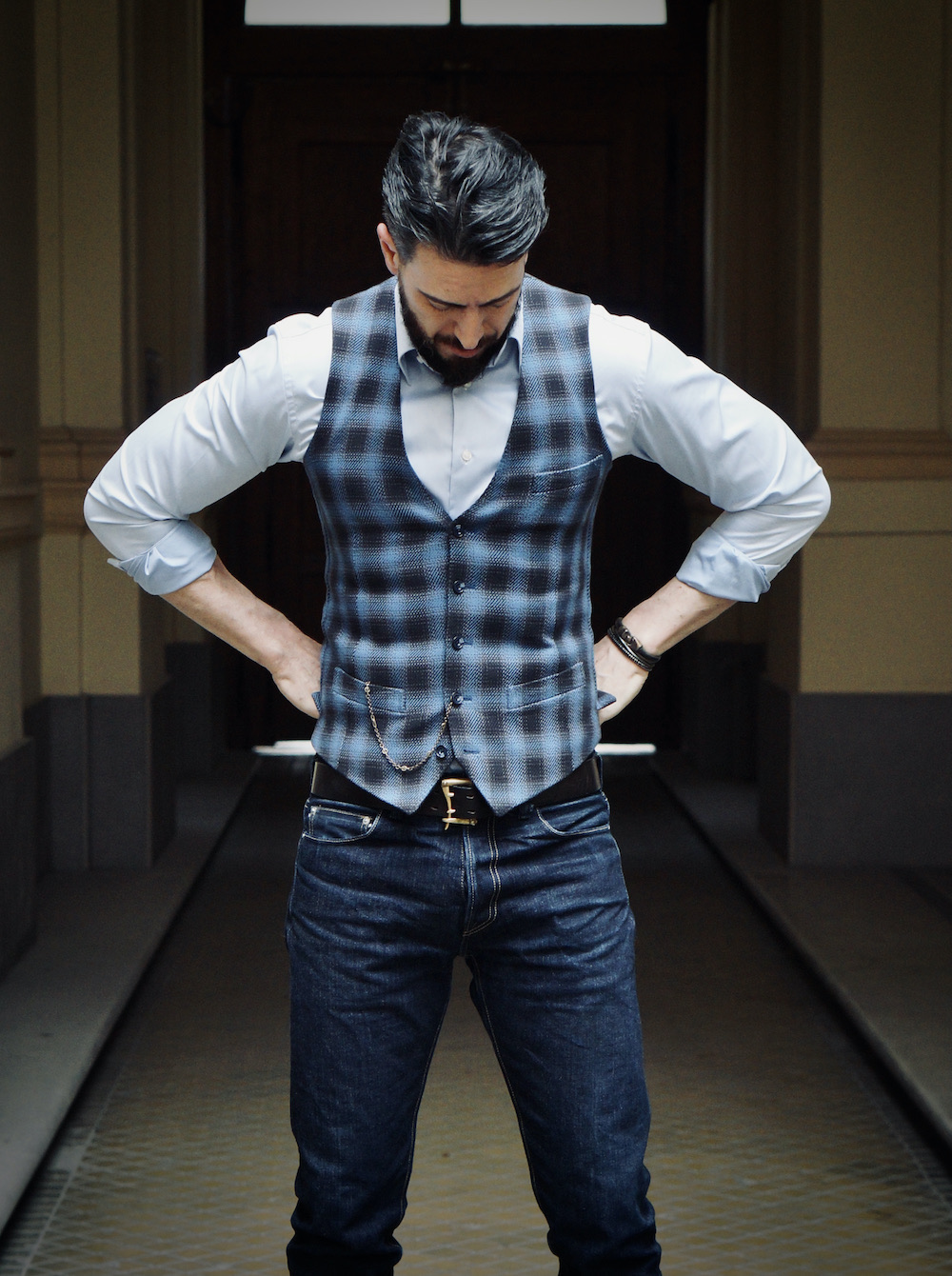 The rise is high enough to keep the waist sitting firmly on the upper half of the hips without needing a belt to cinch it in place. . This keeps the major seam high and tight—exactly where it should be. It's tough to do this while maintaining a roomy feel in the top block, but Robin's managed to square that circle with this pair.
It's in the top block that the European fit considerations really comes to the fore. The Dutch are, on average, the tallest people in the world, so this fit designed in Amsterdam suits my 195cm frame right down to the ground. I'm truly getting the best of both worlds. There isn't a made-in-Japan top block that I've tried that fits me better than this one.
The Denim
Robin has been a denim trade show regular for the past few years. This gave him an opportunity to run his eyes and hands over thousands of denim samples from all over the world. Though he suspected that the denim for his first pair would come from Japan, he didn't take that as a given from the start. He kept his mind open, but he quickly saw that Japanese mills have earned their reputations as the world's best denim producers.
He narrowed his search down to a handful of mills (all in Japan) that could meet all his criteria. He wanted a denim that was tough, but not heavy. It needed to be primed for fades, but he wanted the fades to come at the end of a slow and patient process. He pored over washed swatches, looking for slow-fading denims that would take time to reveal the white core of their yarns. He wanted the denim to become comfortable quickly, but not without losing that structure that gives raw denim its unique feel on the body.
He found all of this in Collect Mills' 16oz Structured Selvedge. The moment he handled this denim, it rocketed to the top of his list. As far as Robin knows, Realign is the only brand currently using this denim. Momotaro has a 16.5oz Structured Selvedge that they use, but the denim used in the RLGN-R has a much smoother appearance. Other brands may soon catch on and start requesting this brilliant denim, or it may remain one of the industry's best-kept secrets.
The yarns have been spun from a blend of American and Australian cotton. The warp yarns have been rope dyed in Pure Indigo and woven on vintage shuttle looms in Kojima. It's a low tension weave, so the denim breathes and moves well. The white weft yarns play upon the denim's surface, but only just. The dance between white and indigo is measured and uniform, with the indigo clearly leading the dance. There's just enough visual character to convey the denim's quality to those who know what to look for.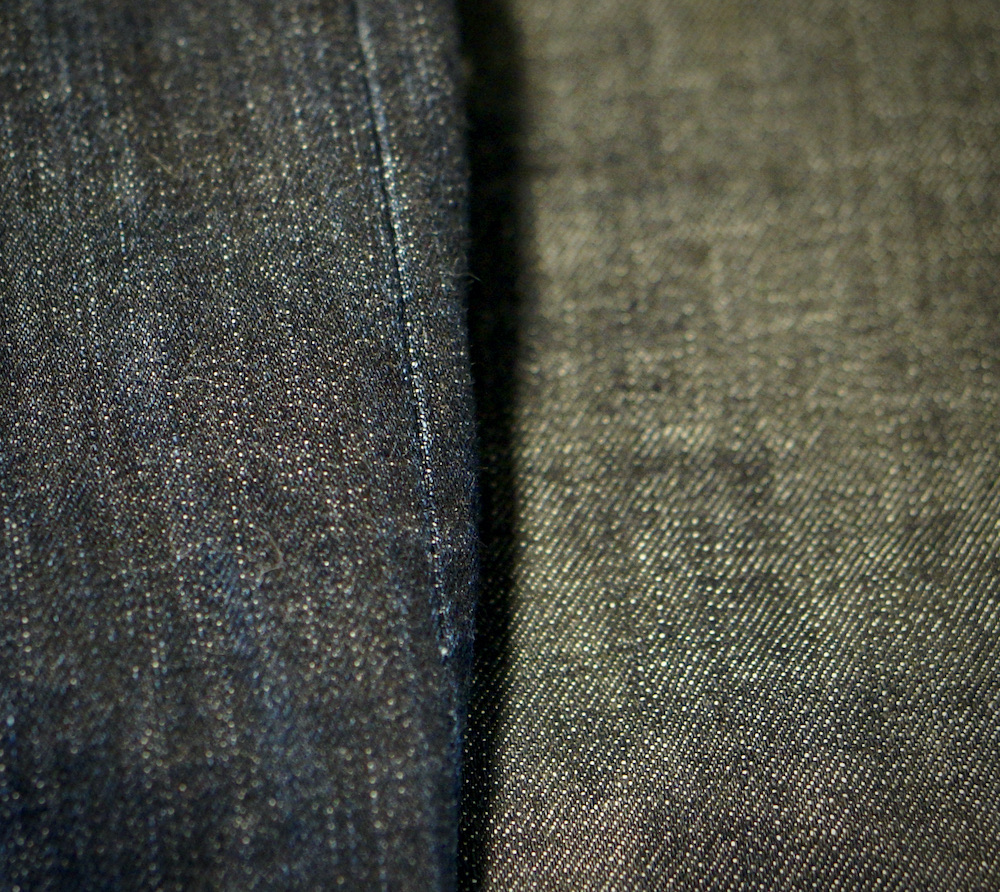 The depth of the blue becomes obvious when you lay this denim next to other comparable fabrics. What you can see above is two different denims from the same mill (they are both from Collect Mills). The selvedge on the right looks like a dull and washed out grey next to the vibrant blue of the Structured Selvedge on the left. This is about as blue as blue can get, and best of all, this denim holds on to this deep colour for dear life.
The Details
This section is where we really get to the meat of this pair. The denim itself is gorgeous, but it's really in the details that Robin has shown what he wants Realign to stand for. There's an intentionality in every detail that isn't always present—even in top shelf pairs. The attention to detail is a byproduct of Robin's enthusiasm for those little things that separate good pairs from great ones. They show a designer that simply refuses to compromise.
I asked Robin about this uncompromising approach. He told me that, when he was working out the details, he discussed his plans with other brand owners. A few of them advised him to round off the corners here and there. The difference would be marginal, but the margins, they said, would be much higher, and this was the only way to make a brand financially viable. Robin stood firm. he wanted the inside of his jeans to be as much a work of art as the outside, so he ploughed ahead without compromise, knowing that the enthusiasts he was trying to reach are willing to pay a premium for details done right.
Let's lead off with the flat-felled inseam. While its a matter of some debate whether overlocked or flat-felled seams are better suited to heavy denims, it is not up for debate which is the more attractive stitch. The flat-felled seam appears cleaner both inside and out, and this one is an absolute masterpiece. The double row of tightly spaced stitching (one row of Dutch orange, the other a dark blue that disappears into the denim) has been executed with all the precision of a brain surgeon.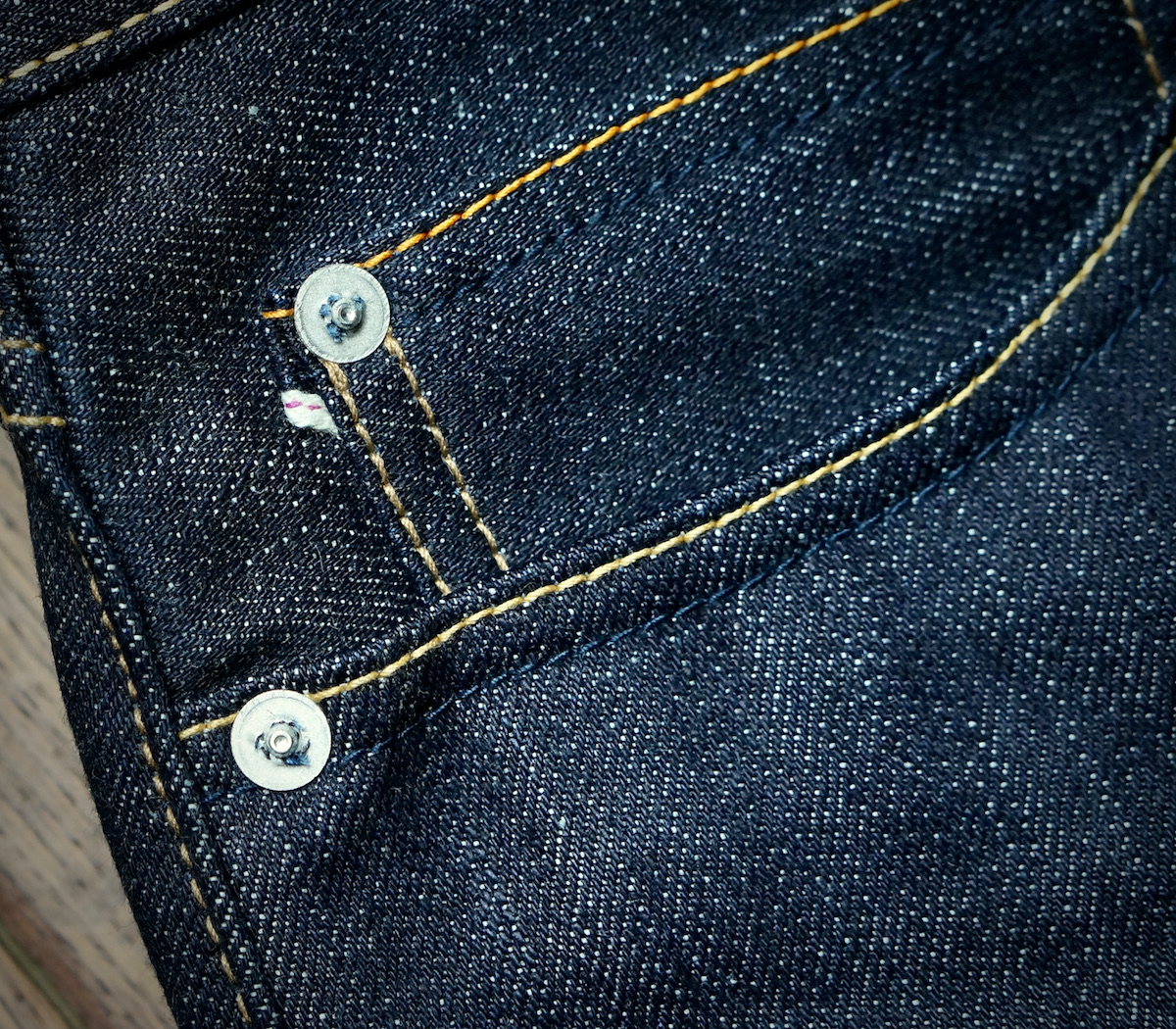 You can see the same double row of orange and blue stitching at the top of the fifth pocket. Along the top of the pockets, both front and back, there's more of this two toned stitching using a combination of tobacco and dark blue polycore threads. The combination of contrasting and camouflaging stitches makes two rows of stitching look like one. This lends the pair a cleanly designed look without sacrificing anything in terms of durability.
There is the one-piece fly complete with a touch of chambray on the sensitive side, the peekaboo selvedge showing on both sides at the fifth pocket, and the raised belt loops. The branded hardware (bell-plated brass) is tastefully and subtly executed, and the unbranded brass rivets (hidden on the back pockets) lend a flash of silver to the top block.
I'm a huge fan of indigo-dyed deerskin patches. I love the minimal patch on my Big John Rare 009s, which has been similarly treated, but Robin has added a little something extra: a flash of contrasting yellow. While making one's brand immediately recognizable is key when you're trying to make your name stand out in a crowded field, the bright yellow is just a little too brash of a statement. For future releases, I would like to see Robin scrap the yellow and stick with the more subtle embossing.
As always, I've saved my favourite detail for last. The indigo-dyed arcuates see Robin signing his pair with a graceful flourish. Robin plans to use more conventional tobacco-coloured thread for future versions of these arcuates, but I'd like to see him keep the indigo arcuates (even if only as an option). They're an absolute show stopper. Though some might argue that these elegant arcuates deserve a more attention-grabbing presentation, I'm not one of these. I say keep these just as they are. They're perfect.
The Fades
The RLGN-Rs open up slowly. After a full month of wear, they're still just getting started. While most pairs around this weight (16oz) would be starting to show electric blue bleeding into white around the sides of the knees and the faint traces of developing whiskers and honeycombs, the Realigns are only showing the faintest hints of the pair they will become. Even after two washes, the hand is still firm and rough and the creases are a long way from settling in.
Along the inseam, at the top of the pockets, on the raised belt loops, and around the fly, some white has started to peek its head out. Though this doesn't give me a lot to go on, it helps me confirm what I have suspected based on the faded examples that I've seen: this denim fades darkly. The deep indigo saturation means that the faded areas look as though they are fighting a losing battle with the moody indigo.
This means that you've got something of a wait if you want to fade these down to the white. Inside of a year, though, you'll see a beautiful vertical texture develop. Thanks to the rigidity of the structured denim, whiskers and combs will be thick and sharply defined, and so will signs of your every-day carry like phones and wallets.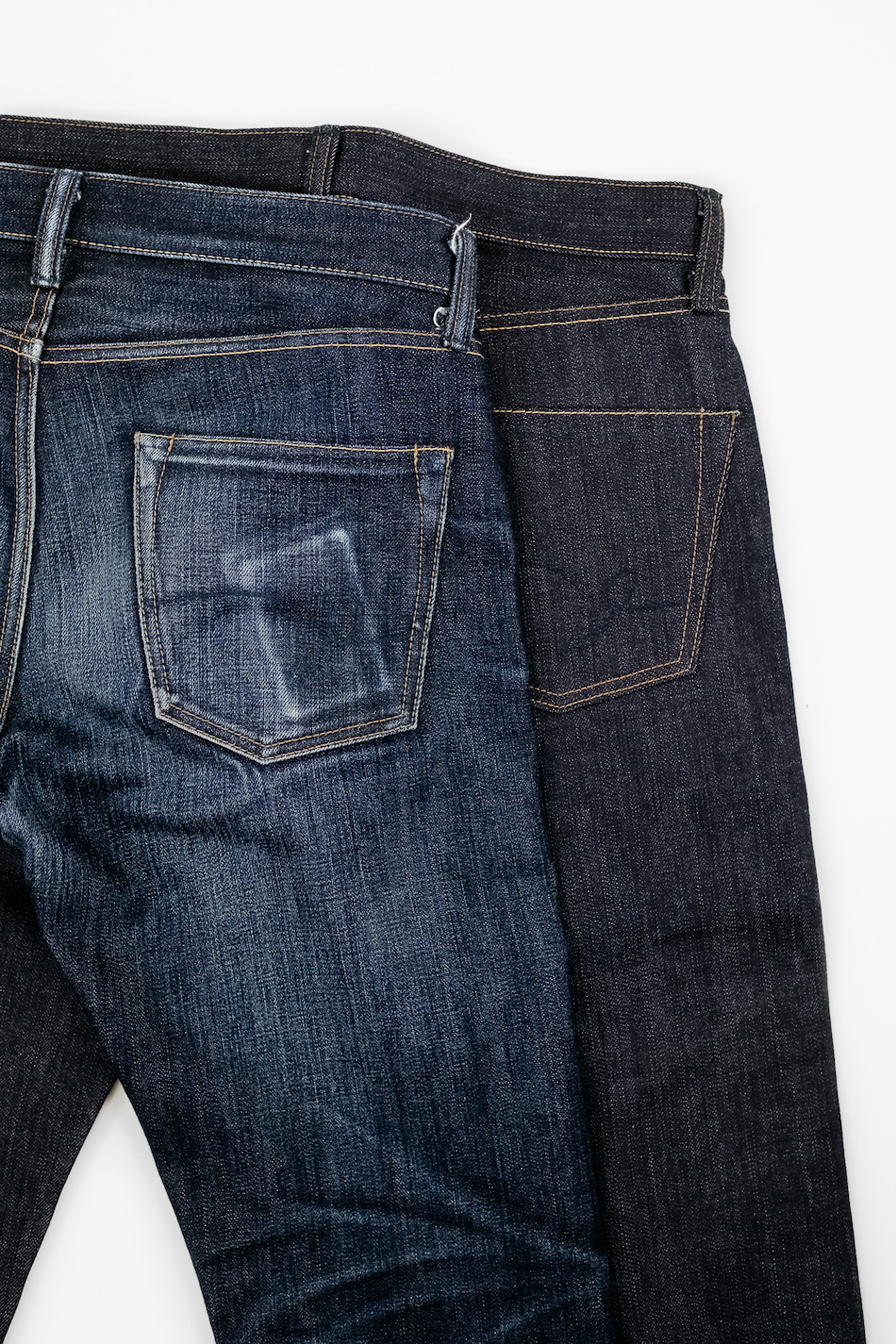 We think this pair will do very well in the Invitational. It might lag behind some of the fast starters for the first few months, but it'll quickly close the gap around the 6-8 month mark. After the full year, you'll cross the line with an absolutely stunning pair with beautifully balanced white and dark indigo tones. The RLGN-Rs are an eye-catching pair from day one, and they'll just get better and better the more time you dedicate to them.
The Verdict
I write this review with a heavy heart. Based on the fit and how the denim has started to develop, I know now that these would be an absolute perfect Y3 competition pair. I wanted to review this pair for our readers, but I honestly wish that I had waited until April 1st to slide this pair on for the first time.
I wasn't prepared for how well these would fit after that first bath, and by that time it was too late to put the genie back in the bottle. Though I wish that I'd waited, I've enjoyed the past month that I've spent in this pair immensely. Every line in them is as sharp as a cleaver. I love showing them off to fellow denimheads who can appreciate and understand the hallmarks of quality. Most of all, it's incredibly refreshing to wear a pair that's clearly been designed with long bones like mine in mind.
What is most obvious about the pair is that it is clearly the product of a denim mind that thinks like we do. It's a pair that gets all the little things right (all those little things denimheads love to quibble about). It's got all those little signs of quality that we look for, and it's primed for the long fade journey ahead.
Like so many seasoned denimheads, Robin has learned to wait patiently for the fades to come. With some great pairs, the fades come fast. With other equally great pairs, they come slow. This pair is one of the latter. In this 16oz Structured Selvedge, Robin's found a denim that makes the wait worthwhile. The RLGN-R is a pair designed by and for patient enthusiasts, and it's one hell of an entrance for Robin's fledgling brand. This bird can fly.
**Use the Discount Code #TeamRealign For 10% Off + Free International Shipping**