The Redline Rally Top Ten: The Best of the Best
The Redline Rally was, more than anything, about proving a point. We were convinced when we started the jacket and shirts competition that the same kind of dedication we apply to our jeans in the Indigo Invitational can produce spectacular above-the-belt fades. Last year, more than 100 faders signed up for the Rally, and those who crossed the line a year later didn't just prove the point—they proved it definitively. There can be no doubt: Beautiful fades are within reach inside of a year, provided we are disciplined.
The competition helped keep us focused and disciplined. It was slow going for the first few months, but things really started to pick up speed in the second half of the competition. Those who patiently waited for the fades to emerge started to see that all things come to those who wait. Quite a few of our competitors produced the best fades of their life this year, and we're proud that we played a part in this.
Picking the winners was not an easy task. Members of the community picked their 10 favourites, and this helped us narrow down the field to our Top 15. We handed things over at this point to our quartet of denim experts, which included Dave Stewart (aka @japanalogue), Isabel Monero of Redcast Heritage, Mohsin Sajid of Endrime, and Dave Mathias (aka @ruggedworkwear). Their judging notes, which we've summarized below, show that they engaged deeply with their task, and we appreciate the time they gave us and the insight they brought to our panel.
The votes were extremely tight at the top. Just a single point separated first from second place, and just 7 points separated first from fifth. Our judges were impressed with the depth of the field, and no two judges had the same top 10, but, as with the public voting, there were clear favourites. We are extremely pleased with these results, as we feel that they are an excellent cross-section of the fading talent present in this community. Our top 10 includes five faders from the West and five faders from the East, a good mix of vintage and high-contrast fades, and a wide range of makers (with one of our Thai artisans doing particularly well).
We'll be recognizing a few stand-out pieces that didn't make the Top 10 with spot prizes, but we feel (and we hope you'll agree) that the best fades won.
The Official Redline Rally Y1 Top 10
After 365 days of fading and nearly a month of voting, deliberation, and tabulation. we have our Official Top 10. Here's a quick overview of the voting process that helped us determine our winners:
The Founders reviewed each of the finishers and we cut the field down to 30 shirts and jackets.
All registered competitors were allowed to cast 10 votes for their favourites from the Top 30, with each vote being worth a single point.
The 13 pieces with the highest point totals went through into the finals.
The Founders picked 2 deserving wildcards to round out the Top 15.
After reviewing the Top 15, each of our 4 judges picked their Top 10. They also provided detailed judging notes, which we've summarized below.
Points were awarded for each appearance in one our judges' Top 10 lists. Faders were awarded 10 points for each first place finish, 9 points for each second place, so on and so forth.
When the votes were tabulated, we had one tie. We used the community votes as the tie-breaker. The fader who placed higher in the public voting round was given the higher position in our Top 10.
Without further ado, here is our Official Redline Rally Y1 Top 10.
| | | | |
| --- | --- | --- | --- |
| Rank | Name | Country | Garment |
| 1 | Kang Jantrasri | Thailand | Choochai Indigo Custom |
| 2 | Harry Kasim | Singapore | Iron Heart 526J-142ib |
| 3 | Scott Stasiuk | Canada | The Real McCoy's MJ21020 |
| 4 | Mohamad Zulkhairi | Malaysia | Tanuki YUJKT2 Yurai Type II |
| 5 | Warayut Kaisomboon | Thailand | Choochai Indigo Ready Made 15oz |
| 6 | Christopher Gibbens | USA | Tanuki RCJKT3 |
| 7 | Chuck Stockstrom | USA | Rogue Territory Tan Ridgeline |
| 8 | Chris Clark | USA | SOSO Indigo x Black Work Shirt |
| 9 | Choochai Boonsrangjamrus | Thailand | Choochai Indigo Custom |
| 10 | Aaron Kikola | USA | Nama Type III Indigo x Black |
Judging Notes: What Our Experts Said About Our Top 10 Pairs
Our judges gave us detailed notes explaining their choices. We've summarized some of their comments below. We'll start with Aaron's stunning tenth place jacket and work our way up the ladder to Kang's faded masterpiece.
10. Aaron Kikola – Nama Type III Indigo x Black
"Supremely worn and faded from top to bottom, left to right." —Dave Stewart
One of the fan favourites right out of the gate, Aaron put in an excellent showing this year. The picture above looks like something out of a fading textbook. He's managed to pull a ton of indigo out of his Nama Modified Type III, but he' left enough blue in there to make it really jump off the white background. It really helps that the jacket fits him so well, wrapping nicely around his torso and remaining slim through the arms (which has resulted in some absolutely stunning combs).
This won't be the last we'll see of Aaron. He's a perennial finalist, and we're expecting another strong showing from him in Year Three of the Indigo Invitational. Fade on, brother.

9. Choochai Boonsrangjamrus – Choochai Indigo Custom
"The undersides of the sleeves look like a blue Bengal tiger." —Dave Stewart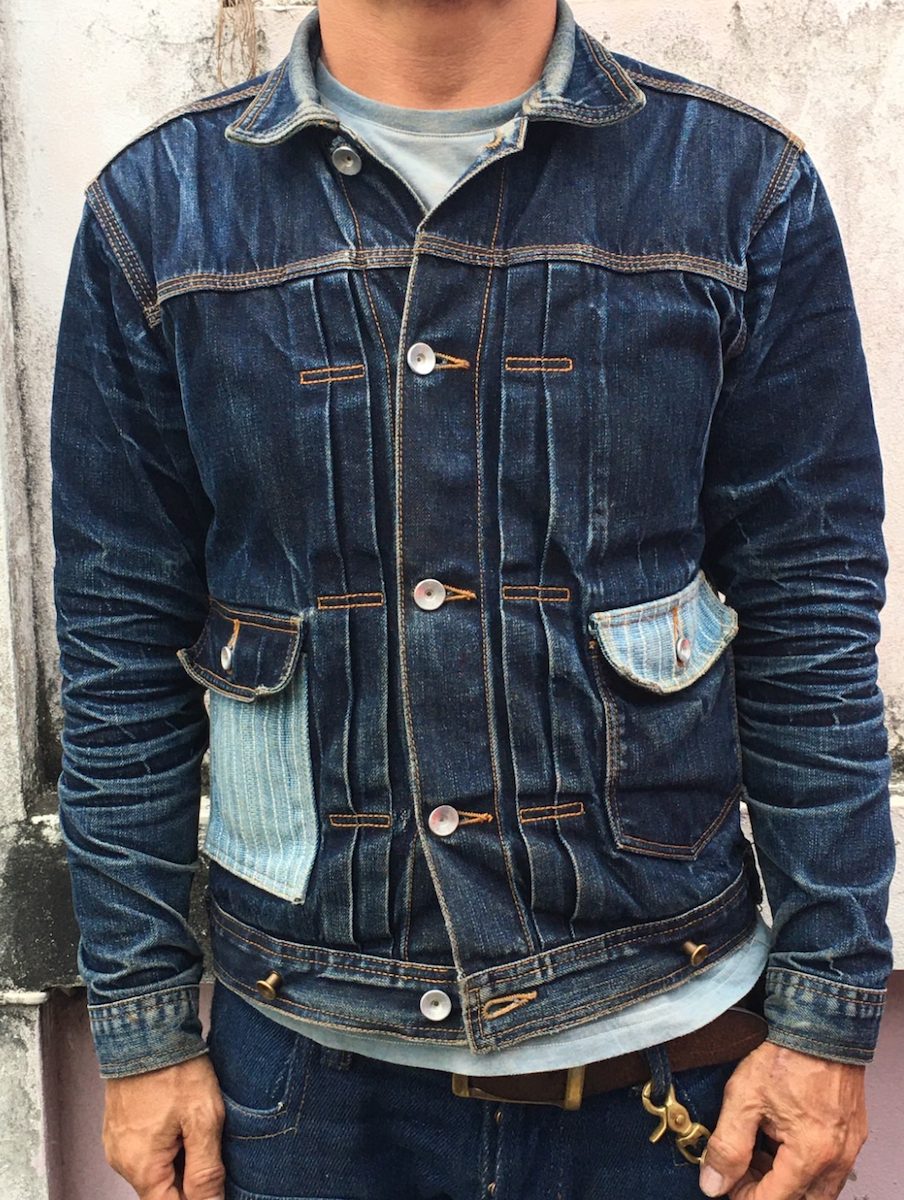 There's a lot going on visually with this jacket. The pleats, the wabash, the buttons around the waist. It's a truly unique piece that captures Choochai's distinct style, both as a faders and a maker. Obviously, he made this one for himself, and he clearly understood exactly what kind of jacket he wanted to wear every day and what denim would produce spectacular fades. it's a relatively lightweight denim at 12oz, but he's abused the jacket like it's a heavyweight, and he's been rewarded with beautiful contrasts—and a ninth place finish.
If we had a maker's cup like they do in F1, Choochai absolutely ran away with it this year. He's got three pieces in the top 10 (1st, 5th, and 9th). This is the kind of dominance we've seen from some of the biggest brands in the industry in past years, so this is an achievement to celebrate. He's got to be proud of what he and his team of faders have produced.
Choochai has also generously offered to pass his prize to the next winner in line, so we'll be able to award another deserving fader for an incredible effort. a huge thanks to Choochai, and congrats for the well-deserved spot in the Top 10.
8. Chris Clark – SOSO Indigo x Black Workshirt
"If this were a beauty contest, this one would be my winner. It should be framed." —Dave Stewart
We gave Chris a prize in Y1 of the Invitational for his filthy fades. He's got one of the dirtiest jobs out there, and he's usually got to wash his pieces multiple times at the end of the year to make them presentable. In spite of this, his SOSO work shirt really held onto some rich blue tones, which helps the white at the elbows and the deep-set combs really leap out at you. It's still got a lot of life left in it, but the cuffs really show how far its come (and what kind of abuse it's been subject to).
Dave Mathias noted that the pockets here are the real stand-out feature. Producing pocket fades like this on a shirt isn't easy, and it shows that this piece has been worn day in and day out for the duration of the competition.
Keep it up with the filthy fades, Chris. It's a winning formula.
7. Chuck Stockstrom – Rogue Territory Tan Ridgeline
"I don't think Daniel Craig would get this result, even after 50 movies. What an incredible effect after many hours in the workshop." —Isabel Monero
Speaking of filthy fades, this is like nothing else we've seen before in the competition. Denim fading is the art of gradual subtraction, but Chuck has turned this on its head with his RGT Ridgeline. He works in a brewery, and, from the looks of the front of this jacket, he's soaking up a considerable amount of his employer's product on a daily basis. We considered making the Rally a denim only fading competition, but Chuck has shown us why opening it up to waxed canvas was a good choice.
If there's a crazier evolution out there for a waxed canvas piece, we haven't seen it. Chuck absolutely shreds ultra-heavy denim, so this is as strong an advertisement for RGT's durability as you'll find out there. It may not be pretty, but it is a marvel of hard-wearing evolution. Kudos, Chuck.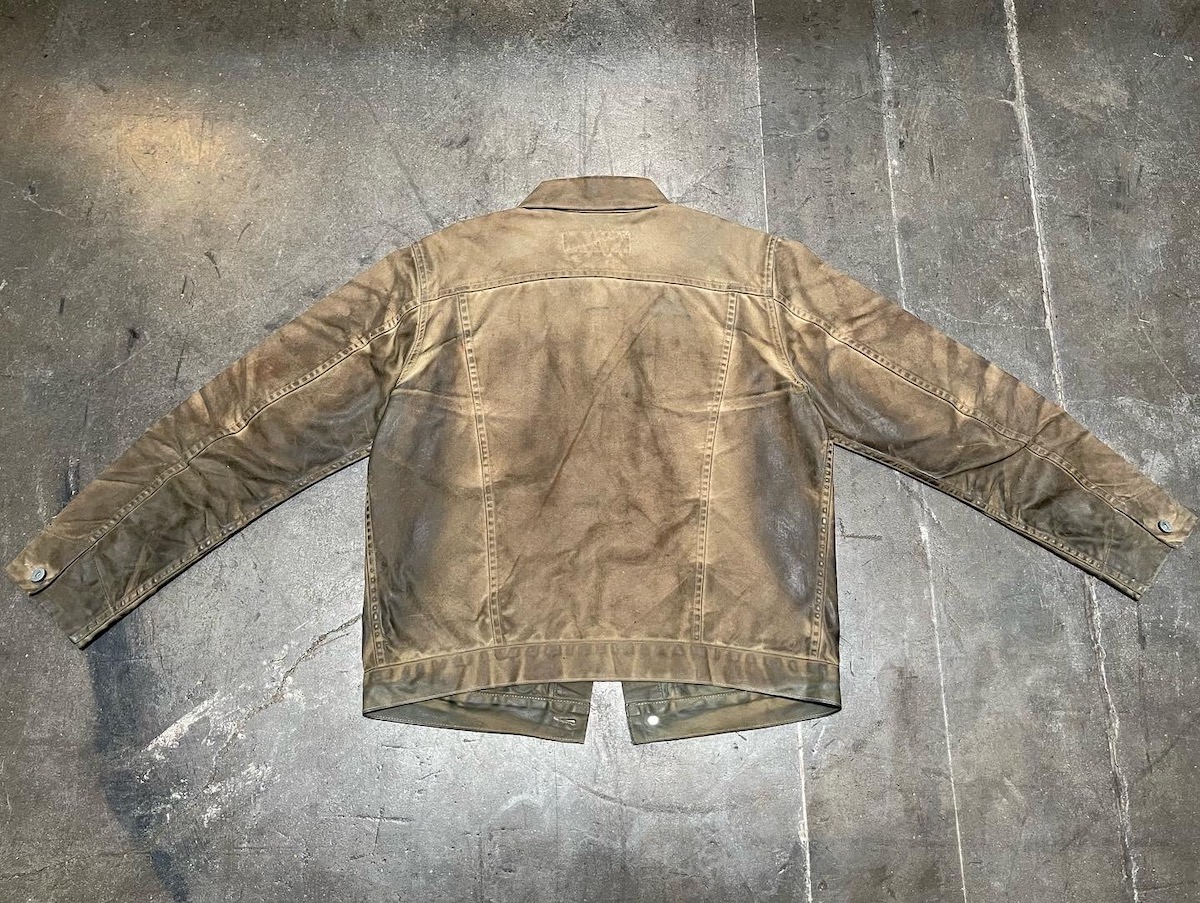 6. Christopher Gibbens – Tanuki RCJKT3
"Very interesting fades throughout. It sits between washed-out and high-contrast fading, with high-contrast fades in places you don't typically see them. Superb!" —Dave Mathias
This incredible piece seemed to fly under the radar for much of the year, and this continued in the finals. Two of our judges, though, gave it very high marks. Mohsin Sajid gave it his silver medal, gushing about the neppy and rich indigo tones, and Dave Mathias noted the fraying on the inside cuff that shows how hard it was worn, and he loved how well the piece manages to balance all-over fades and heavy contrasts.
Tanuki deserves some of the credit here. This is one of their best jackets to date. They released this red-cast denim just before the Redline Rally began, and they were making some very strong claims about how beautifully the denim would fade. They were not exaggerating at all, and Christopher has turned this jacket into a showcase of the incredible fading potential locked away in the jeans and jackets made from this denim.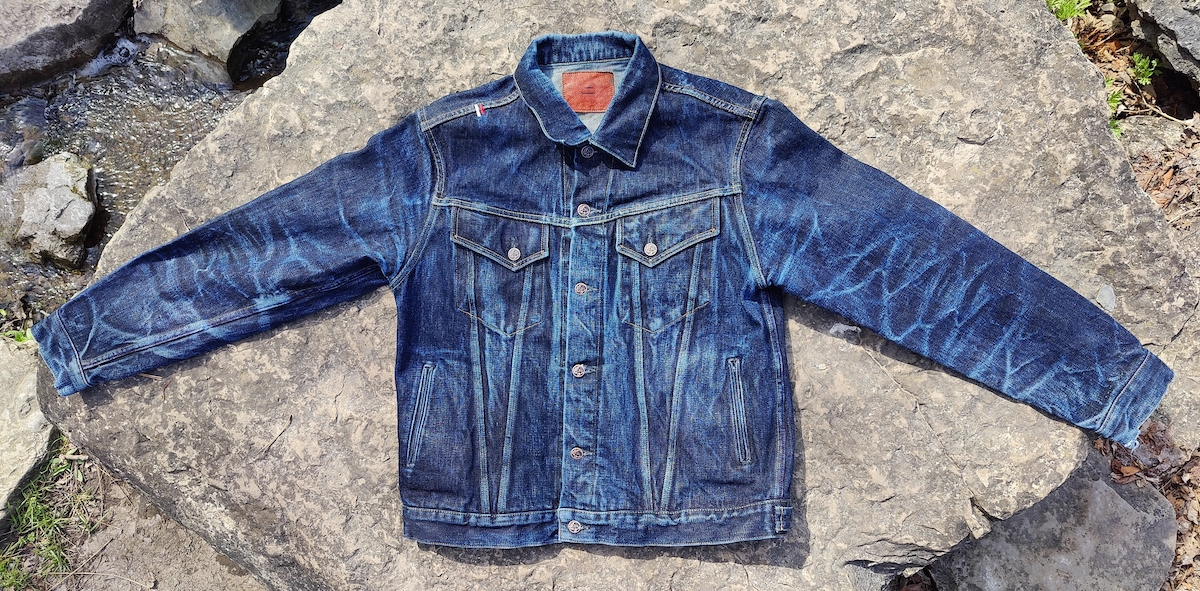 5. Warayut Kaisomboon – Choochai Indigo Ready Made 15oz
"Stupendous. The heavy work and usage factor has transformed this piece into a perfect look." —Dave Mathias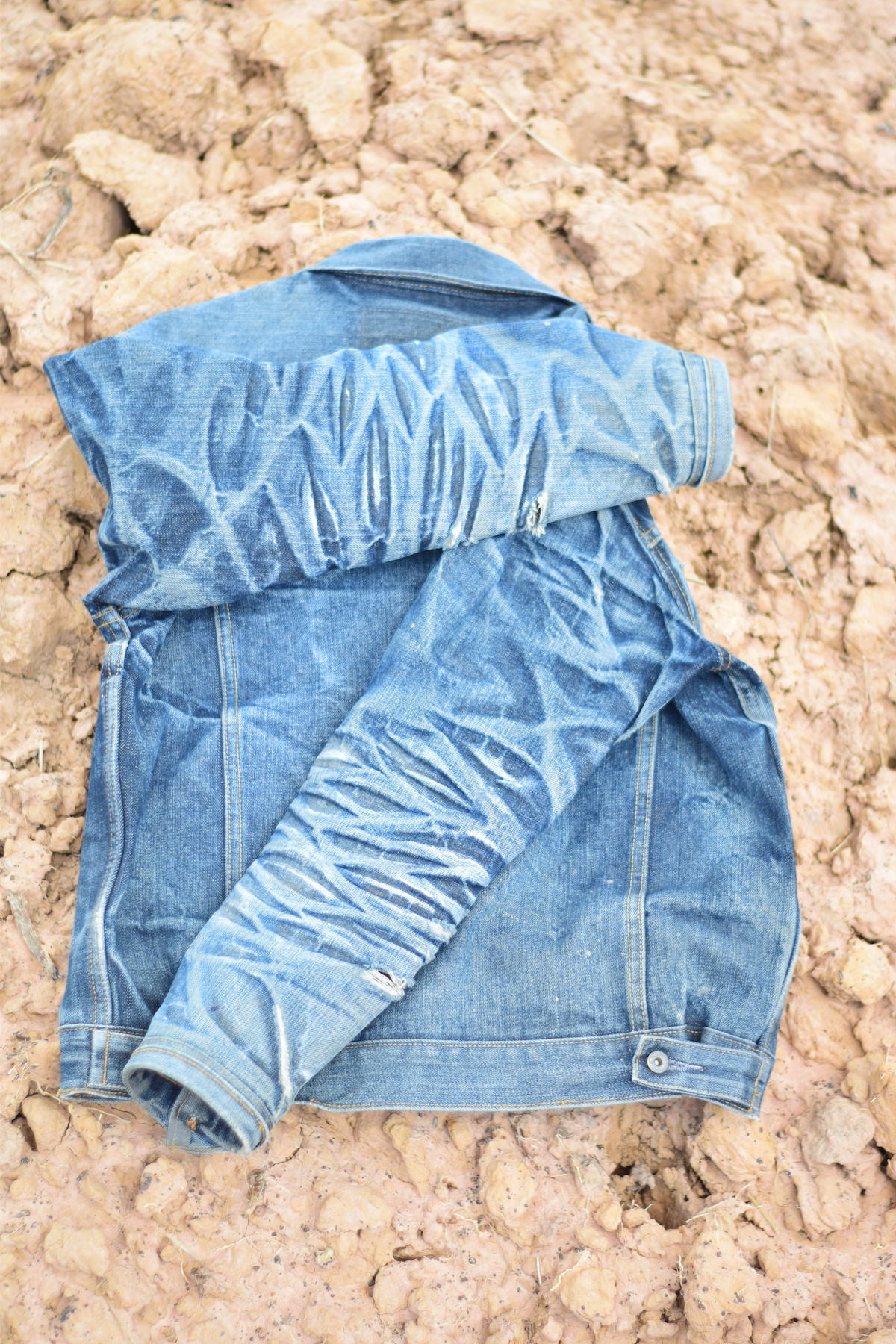 Warayut is one of the fastest faders we've ever seen. We reached out to him and asked him how he was doing it, and he said that he just wears the piece while he works. How does he make a living? He's a farmer in Thailand. He wears heavy denim pieces while he works 14-hour+ days. This makes his fades make sense. He doesn't need to put his denim in the wash to wash it out. He lets the sun do that for him.
The result is an almost stone-washed look on parts of this jacket, and he's worn clear through the arms below the elbows. It has that look of an absolutely ancient farmer's denim jacket, but it's only a year old! It's no wonder that he continues to be such an incredible performer year after year in our competitions. This is his highest placing yet, but we wouldn't be surprised to see him on the podium very soon. Nobody fades pieces quite like this.
Warayut might have placed even higher if he had managed to get the brown tones out of the jacket with a wash or two. For fans of dirty denim fades, it doesn't get much better, but some of our judges expressed a preference for cleaner fades. We'd be very interested to see what this jacket looks like when it's had the dirt under its fingernails removed.
4. Mohamad Zulkhairi – Tanuki YUJKT2 Yurai Type II
"One of my favourites. I've seen many faded Tanuki Yurai jackets, but none like this one." —Isabel Monero
The z-shaped pocket fade on this Type II might just be the best pocket fade of the year. A masterful balancing of vintage and contrast fading, this piece has had top ten finisher written all over it for months.
Dave Mathias was impressed with the puckered fades around the cuff attachment and the top of the waistband. Mohsin Sajid loved the "charcoal-like" texture to the fades and the angled fades produced by regular use of the hand warmer pockets. Isabel noted that there's a tremendous level of difficulty involved when fading natural indigo pieces, and Mohamad seems to have more than just cleared the bar—he's sailed over it.
With fades like this, we're expecting more great things from Mohamad in Y3 of the Invitational, and we hope we'll see him back for Y2 of the Redline Rally.
3. Scott Stasiuk – The Real McCoy's MJ21020
"Those sleeve honeycombs are like staring into the bottom of a swimming pool in the high summer sun. Insane." —Dave Stewart
The all-over fades here are some of the competition's best, but the honeycombs are what really pulled this piece onto the podium. Scott turned the Canadian winters to his advantage by wearing his jacket as a piece of inner-outerwear. Underneath his parka, the sleeves of the jacket were pulled up towards his elbows, and by the time the grass had greened, he had honeycombs unlike anything we've ever seen before.
Dave Mathias noted how consistent the fades are along the seams. There's not an inch of the seams that hasn't been roped and puckered, producing a kind of fade consistency that a number of our panelists appreciated. The design of the Real McCoy's jacket was polarizing, with some of our panelists loving it and others less enthusiastic, but it's definitely true-blue vintage. There was no debate about the pocket watch and pen fades. They're game winners.
Scott's bronze medal just goes to prove that cold-weather faders aren't necessarily at a disadvantage. Layer up!
2. Harry Kasim – Iron Heart 526J-142ib
"Harry has got it right. The fades on the collar show how much wear and work have gone into this jacket." —Isabel Monero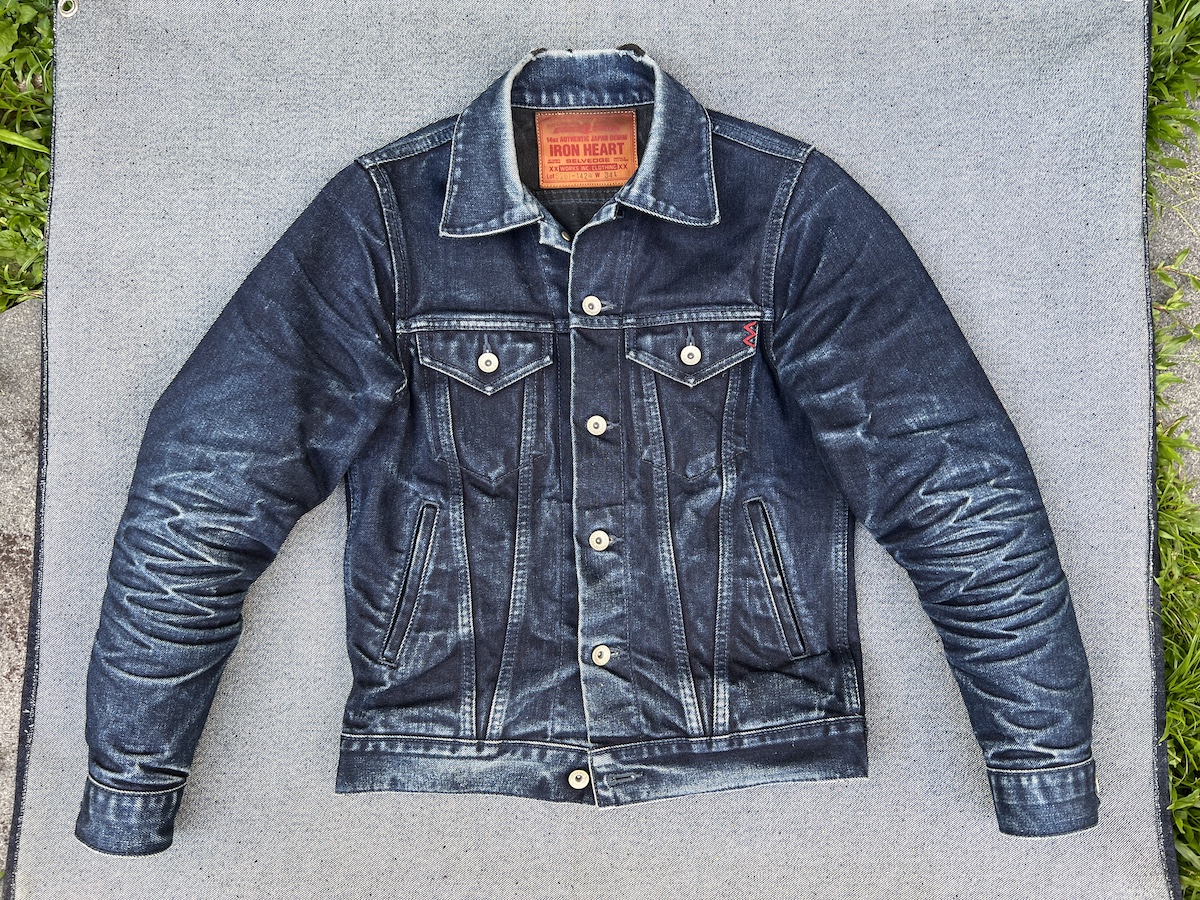 Harry took home the gold medal in Y2 of the Indigo Invitational, and he made it clear from the first update that he wasn't slacking in the Rally. He brought another middle-weight Iron Heart piece to the party, and, based on his stellar history fading Iron Heart pieces, we had a hunch that he'd be on the podium. It really came down to the wire, with the last votes that we registered moving him into second place.
Dave Mathias was blown away by how deeply Harry managed to fade some of the seams. At the bottom of the v-shaped stitching on the chest and particularly at the heaviest faded parts of the honeycombs, the denim along the seam is worn way down to the white core of the yarn. For clean and balanced contrast fades, it just doesn't get much better than this.
Harry has really showcased the incredible high-contrast fade potential of Iron Heart's 14oz indigo x black denim. The fades are heavy and moody, and the craters on the left forearm are some of the best we've ever seen. The collar will probably need to be repaired soon, but there's still lots of life left in this piece, and we hope he'll continue to update us on its progress.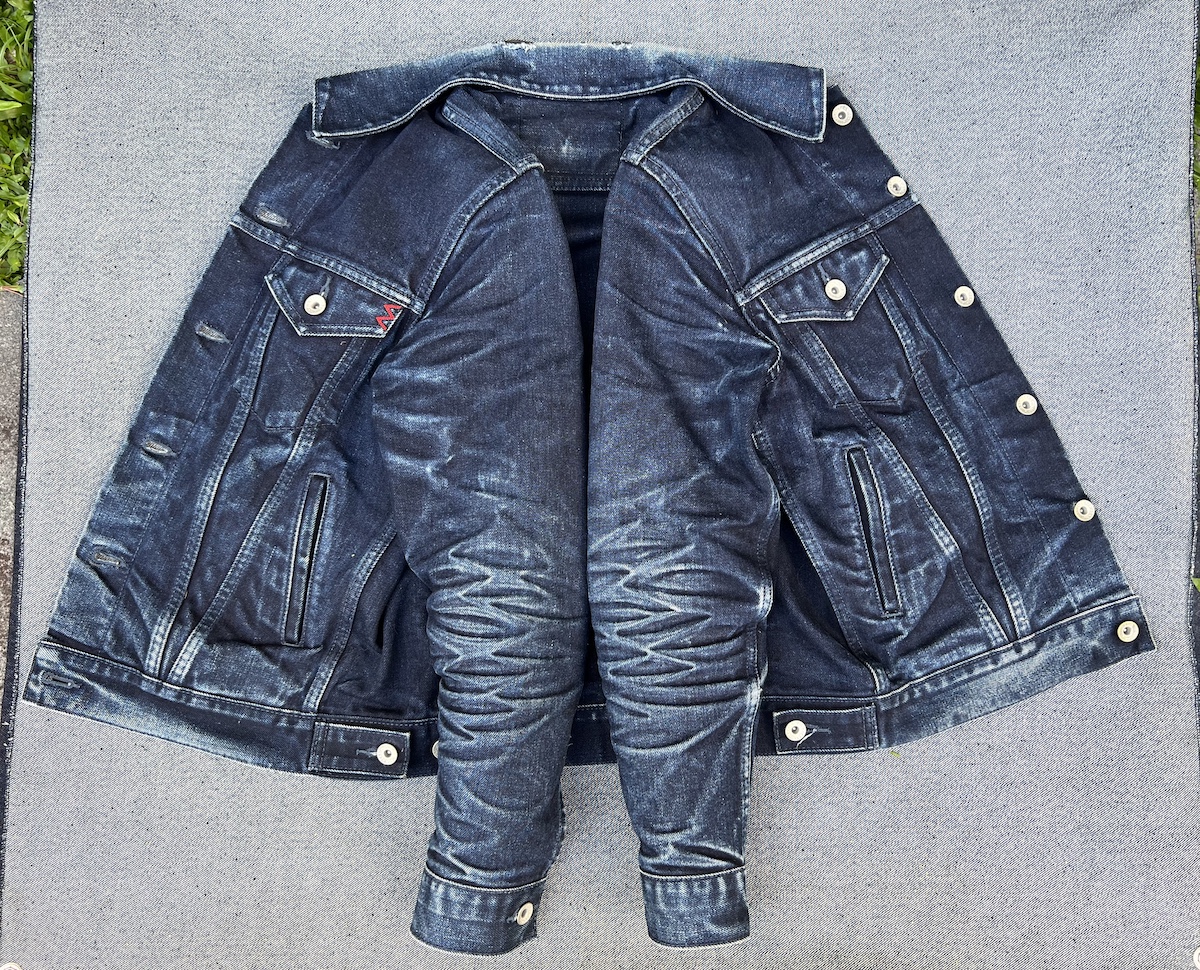 1. Kang Jantrasri – Choochai Indigo Custom
"A triple-pleated wonder! Stunning whiskers on the sleeves. The contrast of indigo and fade on the front is just simply amazing, and the wear patterns on the front pockets are gorgeous." —Mohsin Sajid
Kang has been with us since the very beginning. He was one of the first faders to join Y1 of the Invitational, and, in the small field, many of us who'd seen his work expected him to run away with it. He's been sniffing around a podium finish, and we're thrilled to see that his time in the winner's circle sees him hoisting the gold medal. The win couldn't go to a more deserving fader, and it couldn't go to a more deserving piece.
This is true vintage workwear at its finest, with a back clinch and triple pleats rooting this piece in the first half of the 20th century. It looks like something that's been dug out of a barn loft somewhere in the midwest, and it boggles the mind that he managed to produce fades like this inside of a year. Dave Stewart was blown away by the cuff fades, and he said that faded pieces just don't get any better than this. Three out of our four judges gave it top marks.
Kang is a living legend in the Thai fade scene. His faded Mister Freedom and Iron Heart wabash pieces have made him something of a celebrity, and we're thrilled to see that, at long last, he's finally being rewarded for his hard work and his unending contributions to the SE Asian fade scene.
We want to thank all of our judges and all of our competitors for everything they did to make the first year of the Redline Rally a success. It was an experiment, and in our books it was, by every measure, a massive success. Based on what we've seen this year, we'll definitely be doing a second Redline Rally, which will probably start in either December or January. Stay tuned for the official announcement, and start thinking about what kind of piece you want to wear for a full year.
For the first year, we placed limitations on what competitors could wear. For Year Two, we'll be removing these restrictions entirely. Pieces will have to be brand new and raw, but, otherwise, the sky'll be the limit. We're looking forward to seeing what our competitors bring to the table next year. If you're still unsure, watch this space. We'll have plenty of recommendations to offer in the coming months.
Once again, thanks to our sponsors, the judges, and our competitors. You've all come together to make this an unforgettable experience. Can't wait to do it all again next year.
Stay raw, brothers and sisters.