Tour De NYC: The Indigo Invitational in the Big Apple
New York has long been on my list as a destination. Not only does the city boast some of the world's best galleries and museums, it also has a thriving denim scene. I live in Budapest, where selvedge and well-made workwear are as rare as hen's teeth, so when I touched down in New York, I was excited to be among my people, surrounded by shops that cater to my niche interests.
I wasn't disappointed. I spent the vast majority of my week in Manhattan, and I saw cuffed and faded selvedge just about everywhere I looked. It wasn't hard to pinpoint the reasons why. Not only are New Yorkers a stylish bunch, they've also got access to some of the world's best stockists. Most of these are within a few blocks of each other, at the southern end of Manhattan in Soho, making it possible to visit all of them in a single day.
When I was still groggy with the jet lag, I set out on a cold and blustery morning to visit four selvedge-specialty shops: Blue in Green, Self Edge, Standard & Strange, and the Naked & Famous flagship store. I received a warm welcome at each shop, and I can't tell you how nice it was to sit and talk denim with the knowledgable and passionate staff at each location. I've grown so used to talking about and shopping for denim online that it was intensely refreshing to discuss denim in the offline world. What's more, I could handle the products and try on pieces by some of my favourite makers—many of which I've learned to love without ever seeing up close.
I asked the staff at each shop to recommend and model three pairs for Year Three competitors looking for a last-minute pair. Here are their recommendations.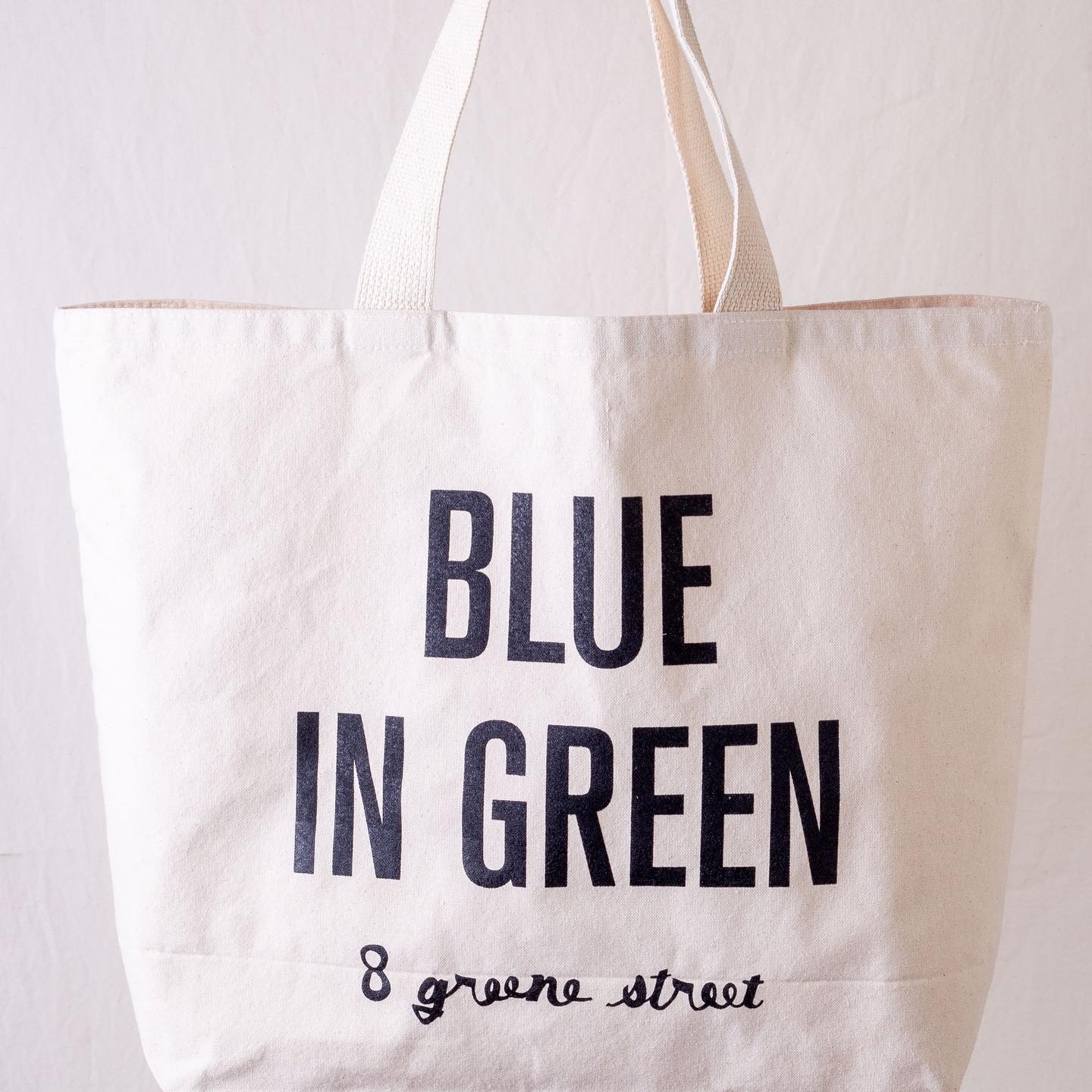 It is fitting that this spacious shop spread over two rooms (with a coffee bar separating them) is named after a Miles Davis song. I'm a bit of an audiophile, so how this place sounds was one of the first things I noticed. In the front room, they were playing soothing electronica on some nice equipment, but I could hear vintage soul seeping out from the back room. I headed to the back to investigate and found a massive set of Altec Lansing Voice of the Theatre loudspeakers flanking a set of fridge-sized JBLs. They were powered by an equally impressive McInsosh amplifier, which looked powerful enough to light up a city block.
All of this suggests a great deal about the founder's passion for quality and niche goods. Blue in Green have made their name by stocking hard-to-find labels and distinctive garments, with an emphasis on the more cutting edge designers in the Japanese and well-made space. They not only had the best-sounding shop I've ever been in, they also had more Kapital pieces under one roof than I've seen since visiting the Kapital shop in Tokyo. I saw the brand's smiley-face logo all over Manhattan, so it looks like the Japanese design house is having something of a moment in the sun in NYC.
Garvey Malawa was my guide for the day, and his first recommendation was a pair from Kapital. The No. 4 Plant Dye Monkey Cisco Denim. The distinct green denim is a mixture of plant dye and indigo, and Garvey and I agreed that this pair would be a great choice for those who want to start standing out from the crowd on day one.
For another show-stopper, Garvey also recommended a Blue in Green x Pure Blue Japan 15-year-anniversary collaboration with a natural indigo warp and a vivid purple weft. The BIG-PBJ-013 is a 17.5oz and heavily textured denim in the brand's signature slim tapered cut. The purple really pushes through to the surface, so this is a loud pair that you'll want to approach with caution unless you're a lilac lover.
If you're looking for something a little more conservative, Garvey's last recommendation is right down Main Street. Oni's Secret Denim is one of our favourite fabrics, and we're always thrilled to see faders bring it to the competition. Garvey modelled the 246ZR, which is Oni's modern straight fit, and it took every ounce of discipline I have not to walk out with a pair for my collection. The beige weft and the loose weave produce beautiful dusty-hued fades, and pair start to feel like sweat pants around the 250-wear mark. A great recommendation.
While the San Francisco Self Edge location is the true Mecca of the American selvedge scene, the New York branch has all the hallmarks of an unmissable denim shop. The shop is small, but every nook and cranny is filled to bursting with top-shelf pairs, leather jackets, flannels, and denim-adjacent goodies. What you see is only a portion of what they have. There's a trap door by the desk leading to their stockroom, which is crammed full of incredible pieces from the likes of Iron Heart, Flat Head, and 3sixteen, just to name a few.
Sean and Zane really sunk their teeth into my request for recommendations. It seemed almost impossible to narrow it down. The Strike Golds and Samurai x Old Blue collaboration held on for dear life, but we ended up cutting them in favour of some classic made-to-fade jeans that might not be on your radar.
First up is the 3sixteen CS100XK. This 14oz indigo selvedge was custom woven for 3sixteen by Kuroki Mills, and, while it doesn't trumpet its virtues from the rooftops, it is stunning up close. At this weight, you'll be comfortable all summer long, and you'll be knocking on denim heaven's door by the end of the year. It was the first pair on their list, and, when I handed it, it was easy to see why it was the easiest pick they made.
Next, Sean and Zane went with an unsung hero—the Stevenson 220 Carmel. The denim itself is fairly straightforward. It's a 14oz sanforized indigo x natural denim, and the cut is equally unfussy. It's a simple tapered straight with a medium rise. Where things get really interesting is the needle work around the pockets. These are the kind of details that really stand out in a packed field, so it's a great choice for faders who want to get noticed.
Last at bat is the Sugar Cane 1947, another quietly brilliant pair that rose to the top simply because Zane was wearing a much-loved pair of Sugar Cane AWA-AI when I walked in the door. The 1947s are a meticulous reproduction of 1947 501s, right down to the period-correct 14.25oz red-line selvedge. For vintage faders, this will tick all your boxes. It's not a brand we see a lot of in the competition, and we'd sure love to see what a dedicated fader could do to a pair of these.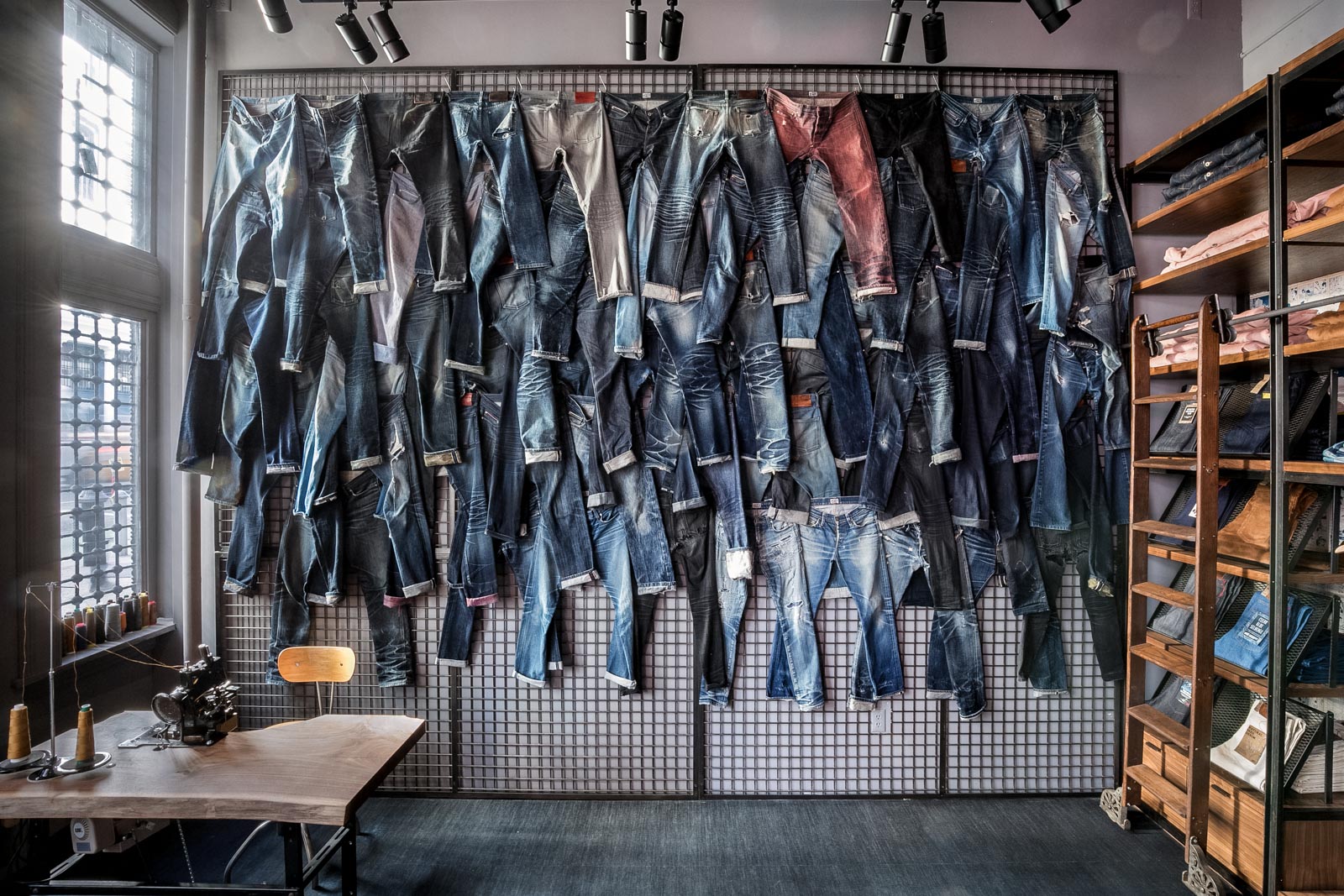 The Naked & Famous flagship shop in Soho was pretty well exactly how I imaged it would be. The first thing you notice when you come in is the world-famous N&F denim wall, which has appeared in our feed more than once over the years. Spreading out from there, everything is crisp and clean. The shop has all the hallmarks of a carefully designed fashion boutique, with everything given space to shine and no piles of denim threatening to topple over. To see nearly the entire range of what N&F produces is staggering. They truly do something for just about everybody—all the way from stretchy and ultra-light denim hanging patiently on the rack all the way to their literally top-shelf hand-dyed MIJ8 packaged in a pine box, waiting patiently for that deep-pocketed enthusiast.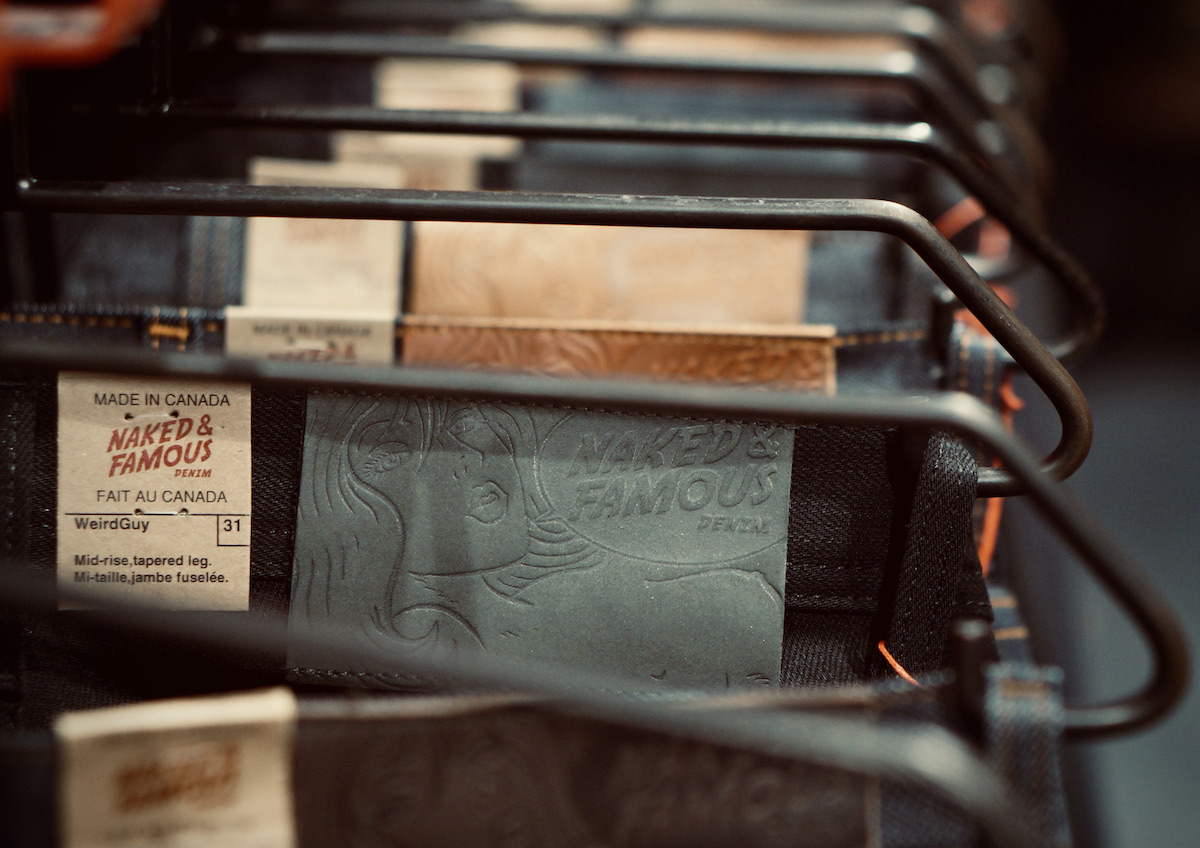 After talking for a while about the competition with Zeke, Daniel, and Shane, we got to work trying to narrow the N&F range down for competitors. Let's start with the real stand-out in the bunch—the King of Lords. The multiplication of slub and nep has created a denim that wins the texture game outright. Naked & Famous always push to be the first into a category, and if they can't be first, they'll settle for being the most-est. They've done that with this pair, which should feel like pyjamas after a four or five months.
Next up, we went with something that we were all curious about. The Matrix Free Will pair is definitely not for everybody, but if you are ever torn between wearing denim or leather pants, this pair should at least capture your attention. It'll take a brave soul to commit to wearing the Free Wills for a full year, but we think the selvedge-loving community will give you a standing ovation after 365 days just for showing us what this pair of faux-leather coated selvedge looks like when it's been thoroughly used and abused.
Finally, we close our N&F recommendations with a pair we know we'll see a ton of this year, the Elephant XS. Year after year, the Elephants have been one of our most dependable competition pairs, and this year, the denim scientists over at Naked & Famous have thrown a touch of stretch into their popular heavyweights. It's a bold choice considering the fact that so many of those who reach for the heaviest pairs have sworn off elastane forever, but the N&F guys say that few who try on the denim are entirely won over. If you're not flexible on stretch, they're still very well stocked in the 100% cotton Elephant X.
If you're a regular reader, you know that we always save our favourites for last. In a 10-block circle absolutely crammed full of world-beating denim stockists, Standard & Strange has that little extra wow factor that puts them in their own category. The Real McCoy's pieces had me slobbering all over my boots, and I finally got a chance to try on Freenote's RJ-2, which might be the world's best lined denim jacket (with the price tag to match). What really puts Standard & Strange over the top, though, is their boot wall. Viberg, Lofgren, and Wesco, oh my!
Patrick Gessner is in charge of the S&S footwear department. If that name sounds familiar, that might be because he produced some beautiful fades on a pair of Oni 622ZR in last year's competition. He was beyond keen to make a few recommendations for the community. He and co-worker Neil Berrett put their heads together and, after some intense deliberations, they settled on three pairs.
First on the list comes from a brand that needs no introduction: Real McCoy's. Their Lot 001XX jeans are the brand's standard bearer, and vintage faders will be hard pressed to find a better pair. The 14.5oz denim has been painstakingly engineered to fade exactly like 1950s Cone Mills denim, and the cut is classic in every way. A brilliant recommendation, and a pair that no collection is complete without.
Next up is a pair from one of our favourite American brands, Freenote. The 17oz Wilkes Western is the brand's black x black take on the classic cowboy jean. It's a modern tapered fit, but with the taper dialled down slightly so the jeans will slide nicely over a pair of slip-on boots. The zipper fly might be a sticking point for some of you, but it wouldn't be a proper cowboy jean without that feature. Will be a great choice for boot-rockers out there who want a top-shelf fade-to-grey pair.
Finally, they've recommended one of our favourite collaborations of the year—the Samurai x Old Blue showdown. Like the Wilkes, there's more than a touch of the old west to this pair. Old Blue has clearly taken the lead on the finishing details, but the fit is essentially a Samurai 710, which straddles the line between the slim straight and the modern tapered cut. With this 21oz unsanforized denim, you can expect fast fades and stunning contrasts, and the blend of Supina and Egyptian cotton means these jeans will be butter soft by the end of the competition. We wholeheartedly endorse this recommendation.
Goodbye to Gotham
I want to thank the amazing staff at all the stores I visited while I was in NYC. They all made me feel incredibly welcome, and they all gave me hours of their time. If they grew weary of my company and my questions, they never showed it. They really gave me far more than I asked or expected of them, and they made the weekend one I will not soon forget.
New York is bursting at the seams with incredible denim shops. In between museum and gallery visits, I also stopped in at the RRL store (gorgeous but overpriced) and trekked out to Brooklyn to meet Merica Lee, whose Raw Indigo Sailor Jeans were good enough to convince my wife to leave the world of stretch denim behind (perhaps for good). Everywhere I looked, denim was worn and worn well, and the people selling it were salt-of-the-earth denimheads with not a trace of snobbery. It was hard for me to leave the city that never sleeps. It's a denim lover's paradise, and I can't wait to come back for a second visit.