Adorably Old-Fashioned: TCB Slim 50s Review
TCB has been an underground hit among vintage-loving denimheads for more than a decade now. Hajime Inoue started the brand in 2007, and, for the first few years, he built a loyal following in the Japanese scene. Vintage faders in the West caught wind of the brand not long after, and TCB pieces started showing up everywhere that denimheads congregated.
Since then, one extremely picky workwear stockists after another have picked up the brand. They've captured swathes of new territory, and they've done so by focusing on their vintage niche. Each of their pieces draws on mid-century denim designs from between 1920 and 1970, and they're best known for their vintage straight fits, which pucker, rope, and fade exactly the way vintage lovers want them to.
While faded examples have definitely turned heads, a big part of the brand's appeal is centred on how easy it is to wear their jeans. It's not just about comfort (I'll turn to that in a bit); it's more about how you're supposed to wear them and care for them. Rather than agonizing endlessly over setting your combs and whiskers and keeping your pair dry for hundreds of wears, you can simply wash, wear, repeat.
There's no trick to fading a pair of TCBs. Just slide them straight out of the wrapping and onto your legs. Live your life and wash and dry them when and how you like. Simple.
Now, truth be told, I'm more drawn to slim-fitting pairs designed with contrast fades in mind. Vintage faders tend to be wide in the leg, and my favourite pairs range from snug to tight. I like a trim denim silhouette, so, as much as I respect the vintage scene and its passionate faders, I put TCB off to one side in my mind with the other vintage-focused brand—until, that is, I saw a pair of their Slim 50s.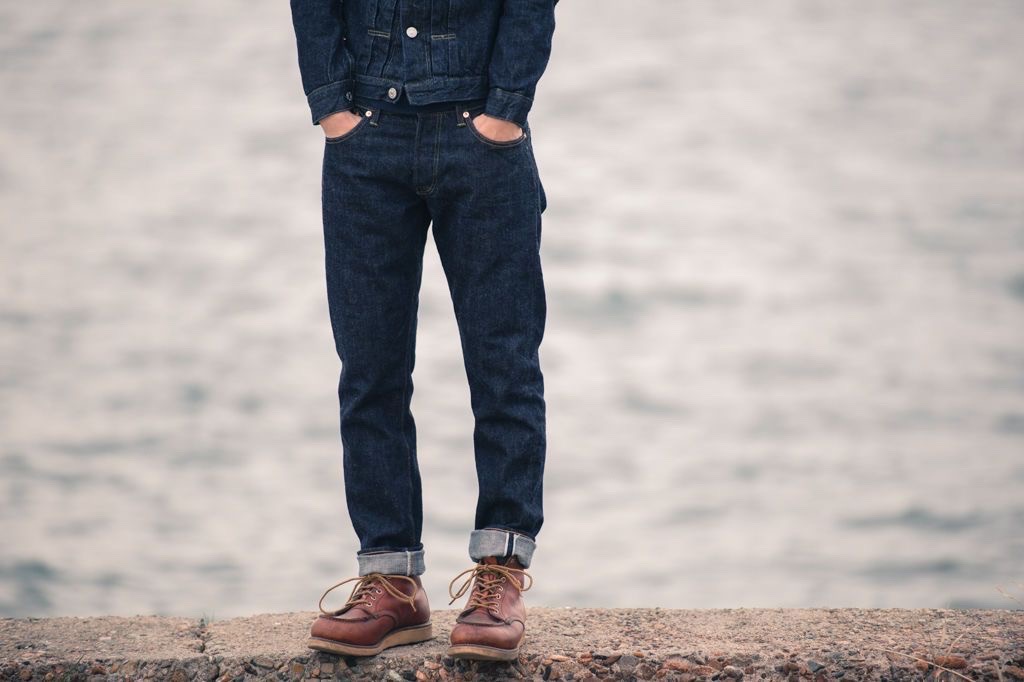 The pair came at just the right time. I was looking for a lightweight and functional pair that I could hike and work in during the summer—a pair I could splatter with mud or cover in sawdust or barn detritus without a second thought. The 13.5oz Slim 50s ticked all my boxes, so I ordered a pair. Here are my first impressions.
TCB Slim 50s: The Heavenly Fit
These jeans are ready to wear right out of the box. They've been washed vigorously, so you can put shrinkage out of your mind entirely when considering the measurements.
TCB Slim 50s Measurements
With Deviation from Advertised Measurements
| | |
| --- | --- |
| Size | 34 (one wash) |
| Waist | 86cm (-4) / 34 inches |
| Front Rise | 25cm (-1.5) / 10 inches |
| Back Rise | 34cm (-3) / 13.5 inches |
| Thigh | 31cm (-1) / 12 inches |
| Opening | 19cm / 7.5 inches |
| Inseam | 85cm (-1) / 33.5 |
| | |
Slipping these jeans on for the first time was something of a revelation for me. Like many of you, I've been a full-blown selvedge enthusiast for years. During this time, I've come to see comfort as the pay-off at the end of a long process. It's not something I expect or even look for off the rack.
Slipping my legs into the TCBs and fastening them triggered alarm bells. My inner voices were screaming at me: raw denim isn't supposed to feel like this! Rather than moving towards the mirror to see how they looked I started lifting one knee and then the other, hinging my legs out to each side.
I performed an experiment. I asked a good friend (a recent raw denim convert) to try them on. As soon as they were fastened, he started moving his legs in the same way I had moved mine, his eyes goggling out of his head like mine had. He'll soon be adding a pair to his rotation.
The key to the easy-moving feel seems to be in the easygoing relationship between the top block and the thighs. The thighs are quite generous for slim fits, but the top block is quite slim. This combination means that the thighs can move independently of the top block, creating a freedom of movement almost unheard of in slim-fitting pairs.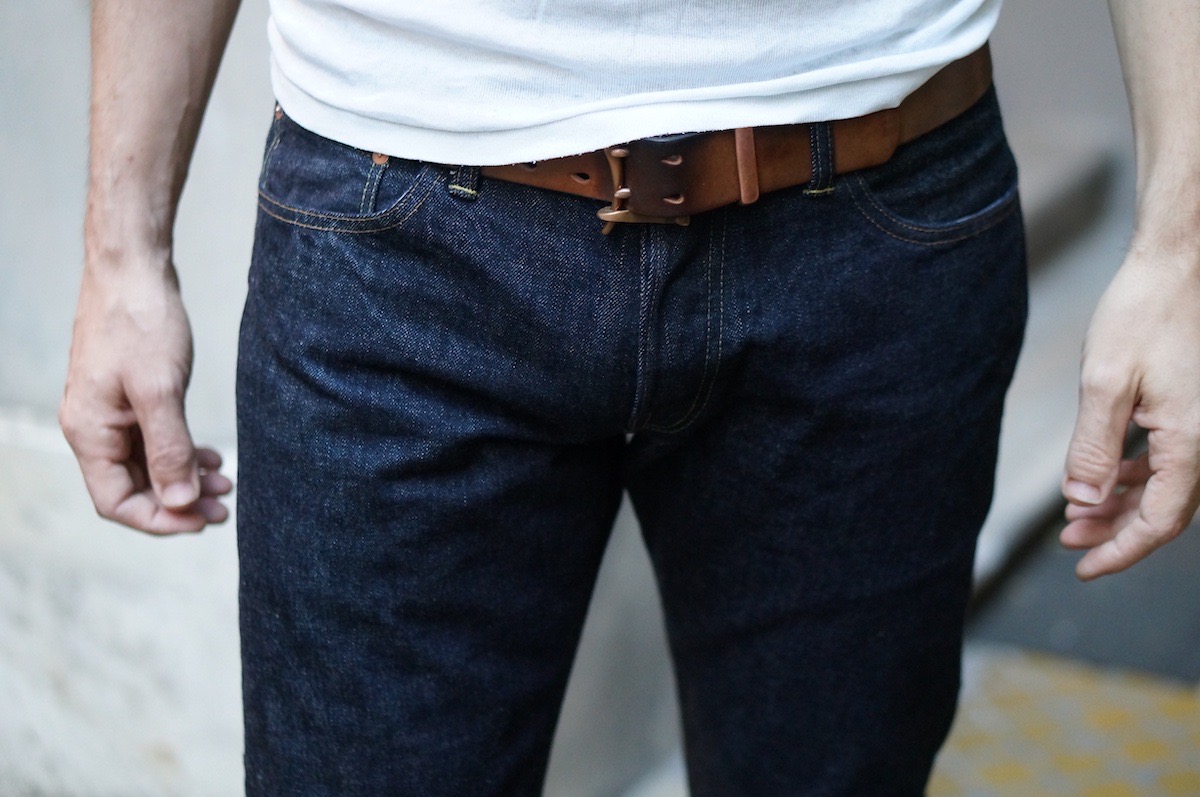 The rise is very low, so it will work best for those with flat or nearly flat stomachs. The low rise also means that the point where the crotch seams meet sits high up on the body. This pays off big time in terms of flexibility, but if your boys need a little bit more room for you to feel comfortable, TCB's slim fits probably won't be your bag.
The high crotch might make these an excellent choice for female faders looking for a low rise pair that doesn't bunch up below the fly. If any of you lady faders out there have tried a pair, we'd love to hear from you. Drop us a line.
For my money, the TCB Slim 50s are the comfiest raws I've ever had on, and that comfort doesn't demand aesthetic sacrifices. They're a great-looking pair, and they were a great summer companion (especially when the temperature soared). For casual and comfortable denim, it just doesn't get any better than this.
Purpose-Built Vintage Imperfections
Usually, when I take a newly arrived pair out of the envelope, they hit the table with a solid thwack. My go-to pairs have long been heavy and solid affairs, so these were a big departure for me. When I opened them up and shook them, the lines where they had been folded started to disappear right before my eyes. The denim moves easily. It doesn't stand firm. It falls and drapes.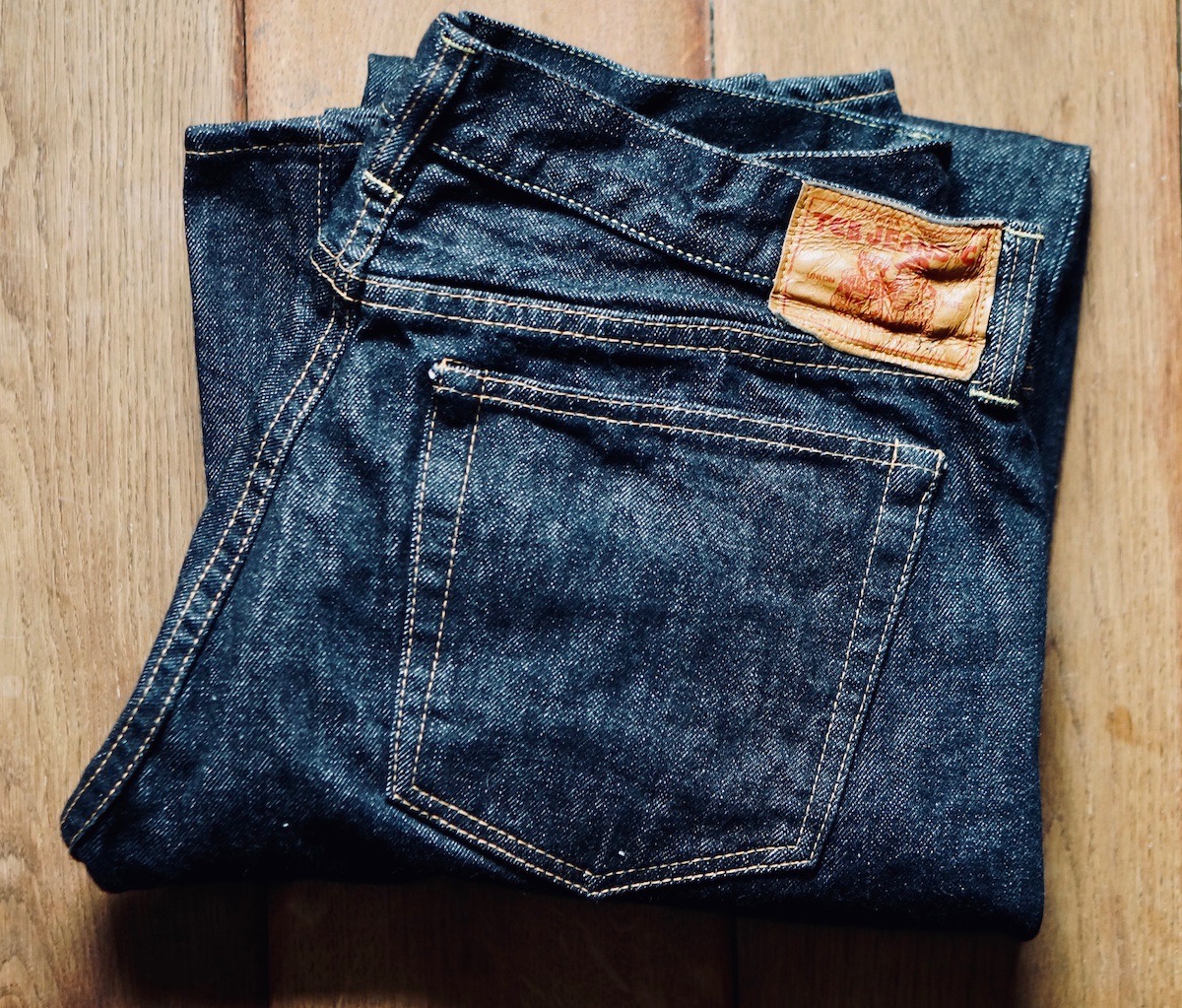 At this weight (13.5oz), the softness of the Zimbabwe cotton really steps into the spotlight. There's a touch of roughness when you rub it down the face, but there's very little resistance when you rub it between your fingers. It's supple and pliant.
The denim itself, which has been woven in Kojima on Shinya Mills' vintage looms, is a vibrant blue. It won't be mistaken for black at a distance. These are vintage blue jeans. There's a hint of vertical texture and the factory wash has brought the denim's hairiness to the surface.
They thoroughly and vigorously wash the pair at the factory, soaking each pair in 30-degree water for 5-7 minutes and then tumble drying them for over an hour. This not only gets as much shrinkage as possible out of the fabric, it also kickstarts the fading and crocking processes.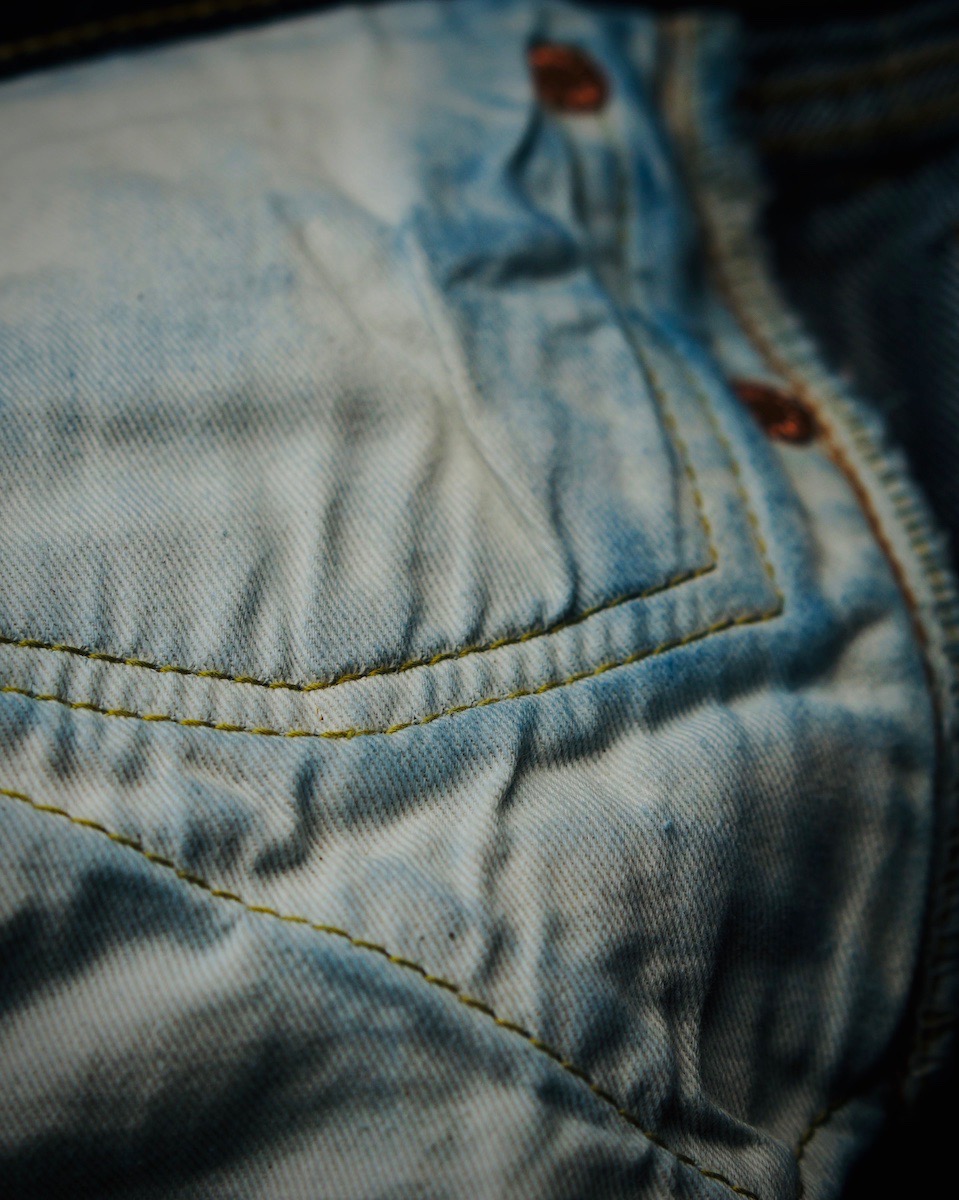 There's pronounced puckering along the waistband (including the patch), there's been a considerable amount of indigo transfer on the pocket bags, and some of the indigo has already started to chip away along the edges of the pockets and the belt loops. This is good news for those who want to see blue turning to white in a hurry.
The Universal-branded rivets are plain on the outside, but the top and fly buttons are all stamped with Two Cats Brand OKJ. Like the denim itself, the hardware that holds it together feels lighter than the heavy-duty stuff I'm used to. I'm sure that, as the denim fades and softens (as it's done in the faded pair below), the lightweight hardware will start to feel like a better match for the denim.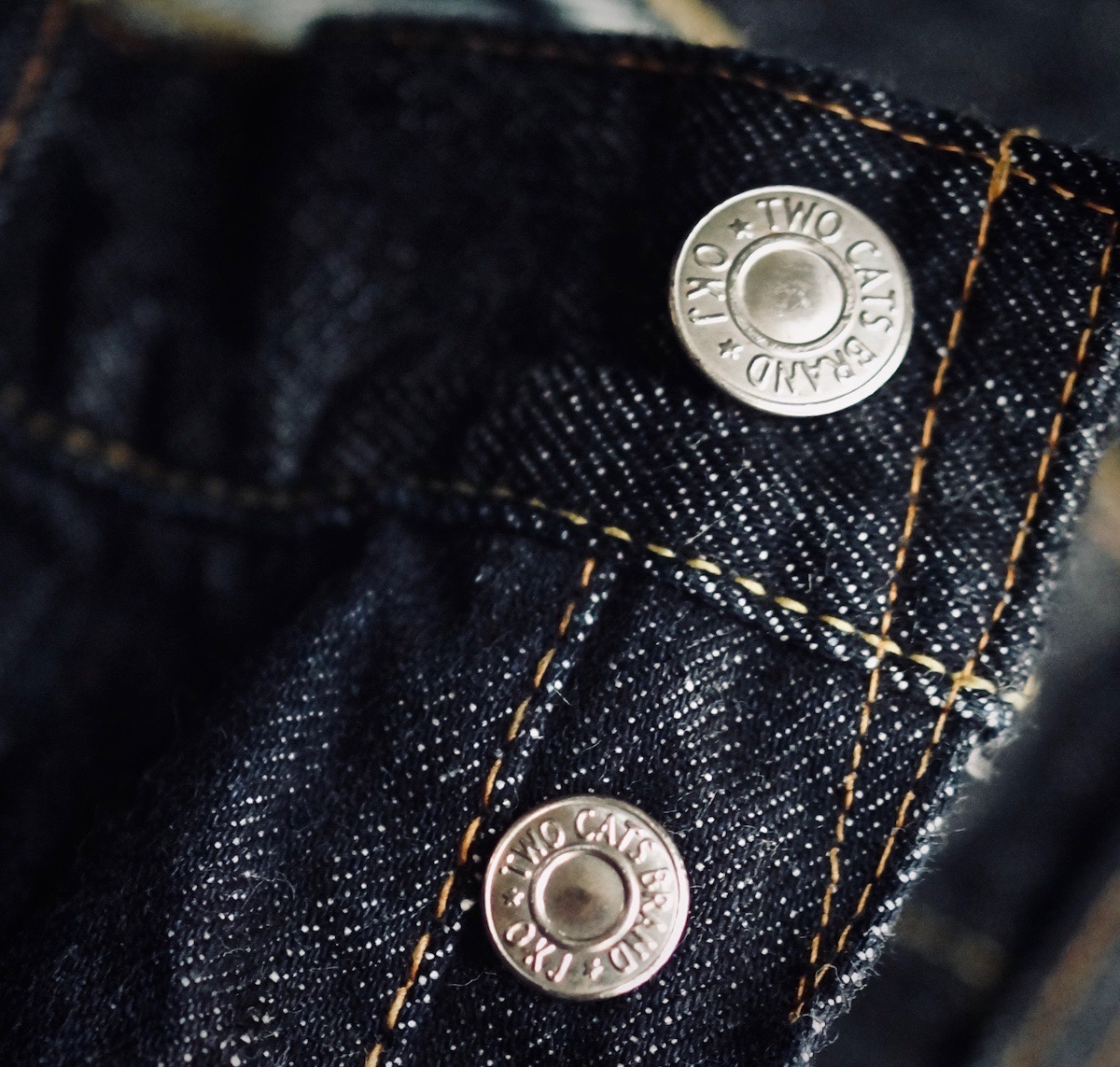 All the details have been carefully designed with vintage fades in mind. The chain stitched hems and waistband have been sewn on positively ancient machines that twist and pucker the denim as it is being fed through the machine. You can see evidence of this along the waistband and at the cuffs. The roping is particularly pronounced. It's easy to see why those who love roping gravitate to this brand.
Finally, there's a distinct playfulness at work with this brand. In this space, branding is so often hyper masculine. TCB's branding is, for lack of a better word, cute. My pair came with an envelope stuffed with adorable goodies. A sticker, a sew on cat patch, and a letter from Inoue-san comparing his jeans to his children (signed with a pair of cat cartoons). The artisans at TCB clearly love what they do. They craft each pair with an adoring hand, and they whistle while they work.
Primed for Vintage Fades
There's a common theme with well-faded pairs of TCBs: they've been absolutely lived in. They haven't been brushed clean and hung reverentially each night to cool off. They've been worn morning, noon, and night, then they've been left in a heap on the floor. They've faded and frayed exactly as they've been designed to do because they've been worn exactly as intended.
The pairs are so comfortable and flexible that there's really nothing you can't do in them, and the more fully you live in them, the more they'll reward you with beautiful vintage fades.
We haven't seen much of this particular denim in the Indigo Invitational. The lighter blue denim featured in the brand's 60s fits seems to have the edge in popularity, but we're huge fans of Zimbabwe cotton, and we love how these jeans fit and perform. We hope we'll see more faders wearing Slim 50s in Year Three, and we hope they push it at least as hard as Christopher Wakefield has pushed his pair, which was recently featured on the Heddels front page.
The Verdict
I'll be very surprised if I ever find a pair of slim-fitting selvedge that is more comfortable than the TCB Slim 50s. Though they haven't converted me into a lover of lightweight denims, they have opened my eyes to how downright pleasant well-made selvedge can be. They'll live very comfortably in the middle of my rotation, rising to the top when the temperature demands something lighter.
If it's been a while since you've added a lighter-weight pair to your collection, these should be at the top of your list. They're light on your legs (and light on your wallet to boot).
For those looking for an inexpensive or an extremely comfortable competition pair, these will be an excellent choice. This goes double if you either want or need to wash your denim regularly. If you take this approach with any of TCB's jeans, you'll be lobbing a pitch right over the plate for them. They're made with this kind of wash/wear cycle in mind, so you'll get the best out of them. After 365 days, you'll cross the line with a butter-soft pair of vintage-faded beauties.
Be aware that stocks are low at the moment. If you're keen to compete in a pair, and you can't find your size at stockists like Redcast Heritage, Stuf/f, The Shop Vancouver, Göteborg Manufaktur, or Store Du Nord, drop Ryo from TCB a line on Instagram and ask them to let you know as soon as they're restocked.