Tour De London: Hitting the Town and the Shops
It's safe to say that most of us denimheads are veterans when it comes to online shopping. We're all used to zooming in on dark selvedge to try to get a feel for the cut and the fabric and scoping out the size chart. Every time we click on that purchase button, we cross our fingers and hope it fits.
It doesn't always work out, but every letdown is an opportunity to learn more and to make ourselves more informed shoppers. Every disappointment tells us something definitive about either a product or even a brand. All of it is a part of the fun, the warm-up act we endure before the show-stopping headliner. The minute we open that package and slide into something absolutely perfect, we remember why we go through the hassle. It's beyond worthwhile.
No Other Way
Many of us have no choice. We must go through this whole song and dance every time we want something new. There are pockets of us in denim hotspots around the world, but, for the most part, we are spread out across the globe, often hundreds of miles away from the nearest well-made goods stockist.
My vigorous letter campaigns have not borne fruit. At the time of writing, Bristol is without a purveyor of quality denim. Though it certainly has its charms, its style options are limited. For well-made menswear, I must head east.
London has many, many things: The Tower of London, Borough Market, Back to the Future, The Musical, and roughly 80% of the world's pigeon population. Compared to Bristol, it's an absolute zoo, but, when it comes to style, few places in the world can rival it.
With Year 3 of competition coming quick, I decided to dive in and brave the London crowds in search of my competition pair. I was determined not to grab the first pair that caught my eye. Instead, I would take my time, browsing the shops to see what my options were and talking to the owners to see what they suggested. I got my map and some string and started to plot my course.
Clutch Café: Heritage Haven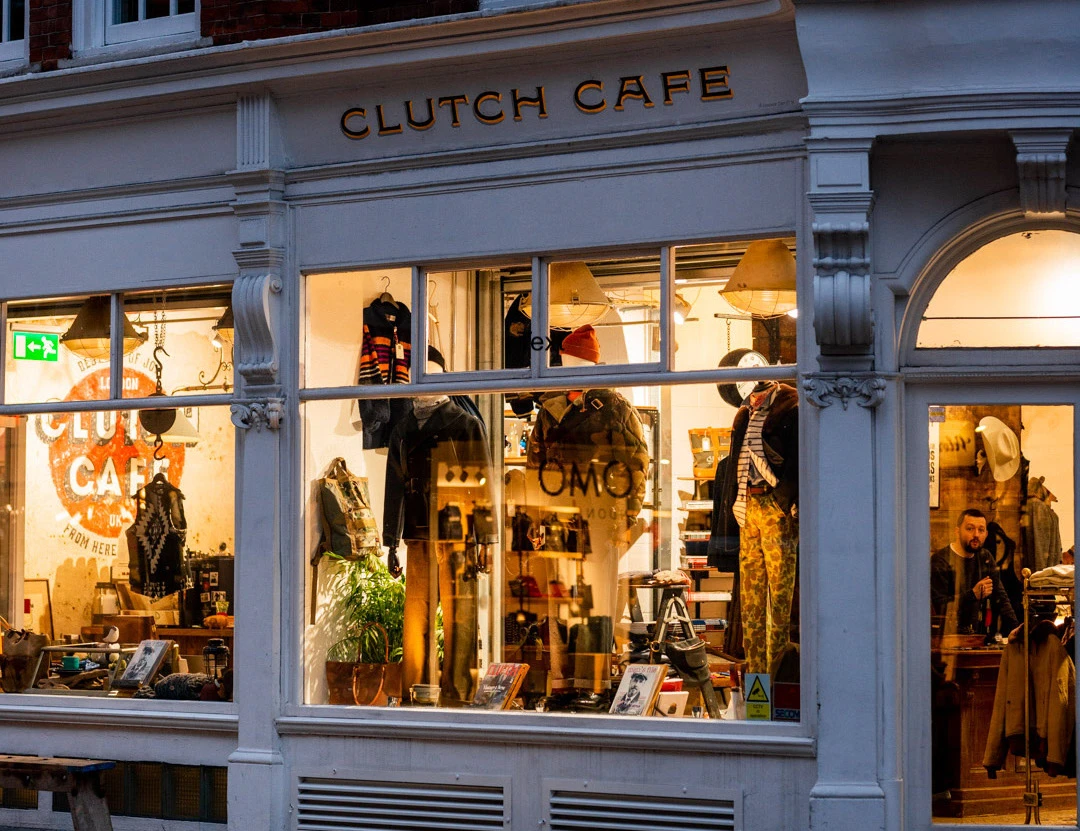 It was cool, grey Saturday when I got off the train at Paddington and headed to the Tube. A short ride on the underground later and I was just a few blocks away from my first stop. Clutch Café was born from the Japanese heritage fashion magazine of the same name, and denim they have on offer reflects their heritage core.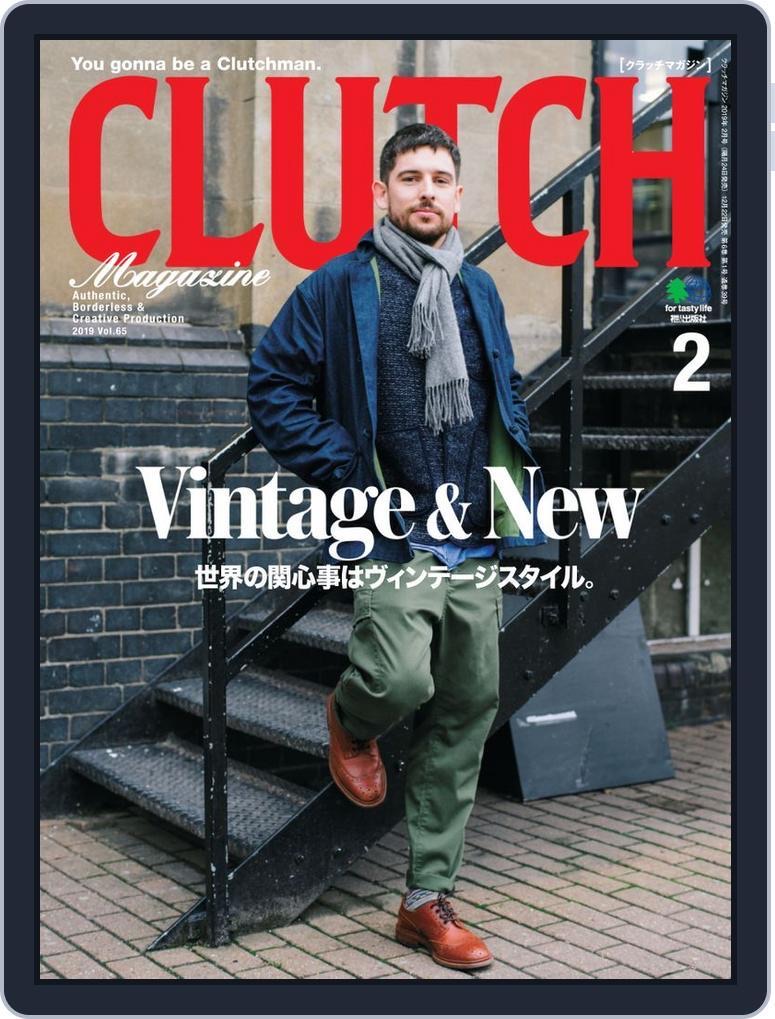 I could see Warehouse, Buzz Rickson, and Full Count pieces stacked up, just begging to be taken home. Clutch has long been the natural home for some of the denim world's most hard-to-find brands, so I expected something special, and I'd been right on the money.
The shop was cosy. It felt welcoming and even lived-in. Every corner had something to discover, and the shop was laid out in a way that encouraged slow shopping. I found myself lingering near the flannels, but I reminded myself that I had to resist temptation; I was on a mission.
I spoke with Ben, asking him what pair he would pick if he had to spend 365 days in. His pick was Jelado's 'Age of Longing' 301XX.
For this pair, Jelado have painstakingly recreated vintage Levi's by dissecting deadstock 501XX pairs right down to the yarn. They put all of their engineering might to work to match the cotton, thread thickness, fibre length, and weight. The 14oz results are about as close as you can get to a pair of crisp 1950s 501s without a time machine.
It's a roomy fit that's meant to fall in a straight line from hips to cuffs. It'll take some getting used to if your normal fare is slim or tapered fits, but if you normally gravitate towards roomy thighs, or if you pair your denim with engineer boots, these will quickly become your favourite pair.
If you're looking for true-blue vintage fades, you don't need to follow me any further. This is where you get off. The recipe is simple. Just slide them on and get to work. No need to worry about tracking your washes or keeping them out of the wet. Just wear them like your grandpa wore his. No fuss, no muss, no bother. The results will remind you why selvedge denim from the 1950s was the spark that started it all.
It was intensely difficult to put the pair back on the shelf, but I still had two more stops to make.
Rivet & Hide: Efficient Indigo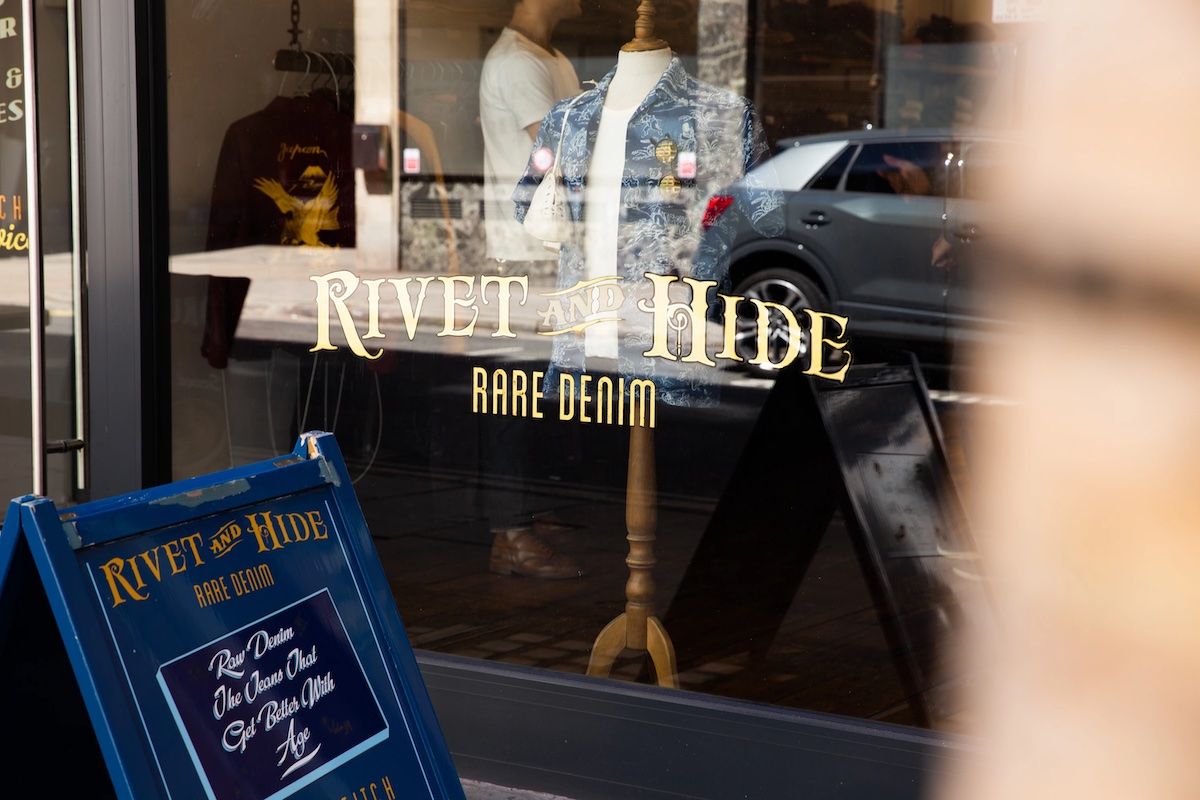 The second stop on the tour was just a stone's throw away. If you're dropping in at either Clutch or Rivet and Hide, make an afternoon of it, and hit them both.
There's some overlap; they both carry brands like Pure Blue Japan and Mister Freedom, but there are a few important brands that they don't share. If you're looking for Iron Heart, Indigofera, Samurai, or Flat Head, head to Rivet and Hide. If vintage faders like Full Count or Warehouse are your bag, head to Clutch. For the best of both worlds, visit both.
While Clutch Café overwhelms you with mountains of denim, Rivet and Hide has a more subdued approach that lends itself exceptionally well to comparison. They keep the majority of their stock in the back. You can browse through the different brands and models they stock and, if something catches your eye, you can ask if they have it in your size—the answer is almost always yes.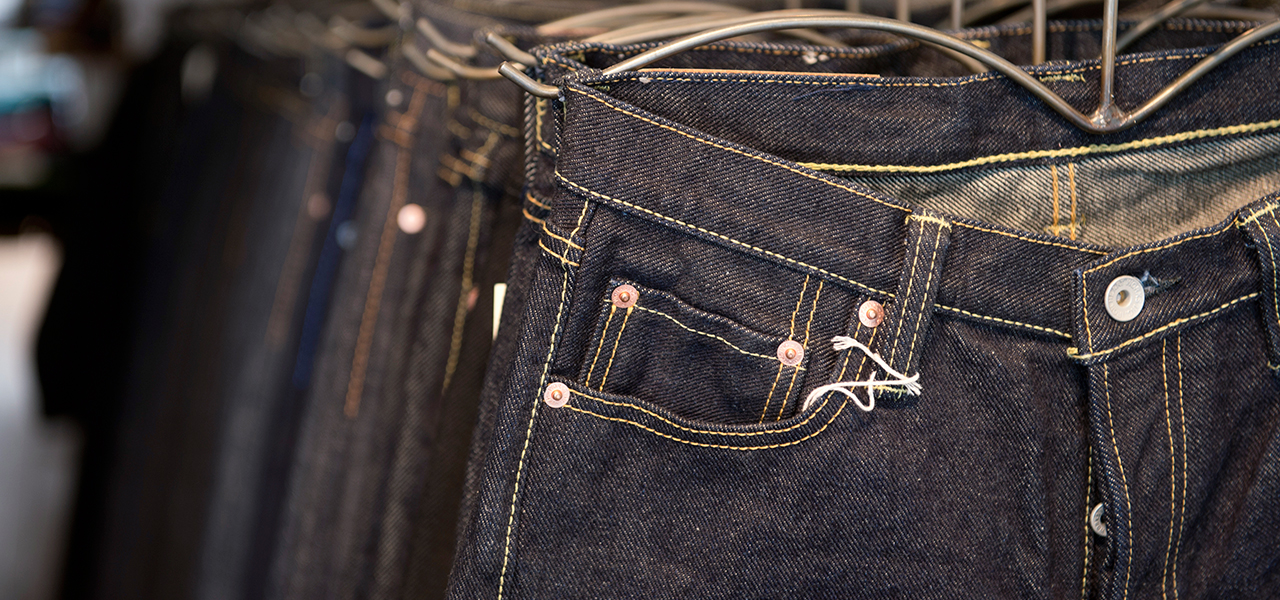 Everything is laid out in an orderly fashion. The shop may be relatively small, but they make the absolute most of the space they have. They're proof that great things and even big things can come in small packages.
Rivet and Hide's approach means you'll need the assistance of one of the helpful staff members, and they might steer you in a surprising direction. James recommended two off-the-beaten-path pairs that he felt would be a great fit for the competition.
The UES 400T Tapered Jeans were his first recommendation.
The long-wearing Japanese favourites have been cut with Western frames in mind. They're a little longer, and they're cut a little higher, so they'll be a great fit for long-legged folks. The unsanforized denim tips the scales at 14.9oz, and it uses long-staple Zimbabwe cotton, so you can expect the comfort to be absolutely off the charts. They've used brown cotton for the weft, so get ready for eye-catching dirty fades.
James also recommended Studio D'Artisan's FOX-001 Selvedge Jeans. Another great choice for those who put comfort first, and a pair that is a strong contender for the best-looking patch on the market. The coyote-embossed pony-hair patch is sure to get noticed by those who care about details, and it's far from the only thing that stands out about this pair.
The comfort taper will be a great choice for those with wider thighs, and the denim is a rich combination of earthy beige and indigo. The cotton takes its name, not from the animal, but from Sally Fox, who first engineered Fox Fibre in 1989. The durable organic cotton that bears her name is tailor made for well-made denim. If the brown weft doesn't grab you, the faded examples definitely will. In the hands of the right fader, this is a pair that could make a LOT of noise in Year 3.
Junior chimed in, saying that the best pair for 365 days of straight wear is Pure Blue Japan's XX-011. It's his go-to pair to recommend for those looking for a good balance of overall fades and stunning contrasts. The 13.5oz left-hand twill will open up quickly, and the grey weft makes the cuffs on this pair an absolute work of art.
The modern cut makes these an excellent choice for city slickers. There's very good reason that fade fanatics who have made the switch to PBJ find themselves returning to the brand over and over again. Faded examples bear this out.
It was very hard not to walk out of the shop with a pair of PBJ in hand. They had so many different PBJ cuts in the shop, so I was able to compare the fits and fabrics in a way that online shopping just can't offer. For a brand like PBJ, where so much of the value can't be fully appreciated until you get up close and personal with it, this really highlighted what I'd been missing when looking at pairs online.
I could have easily spent hours poring over the details and trying every pair on, but the sun was getting low in the sky. It was time to thank the boys at Rivet and Hide and move on to my final stop.
Son of a Stag: Stacks of Stitches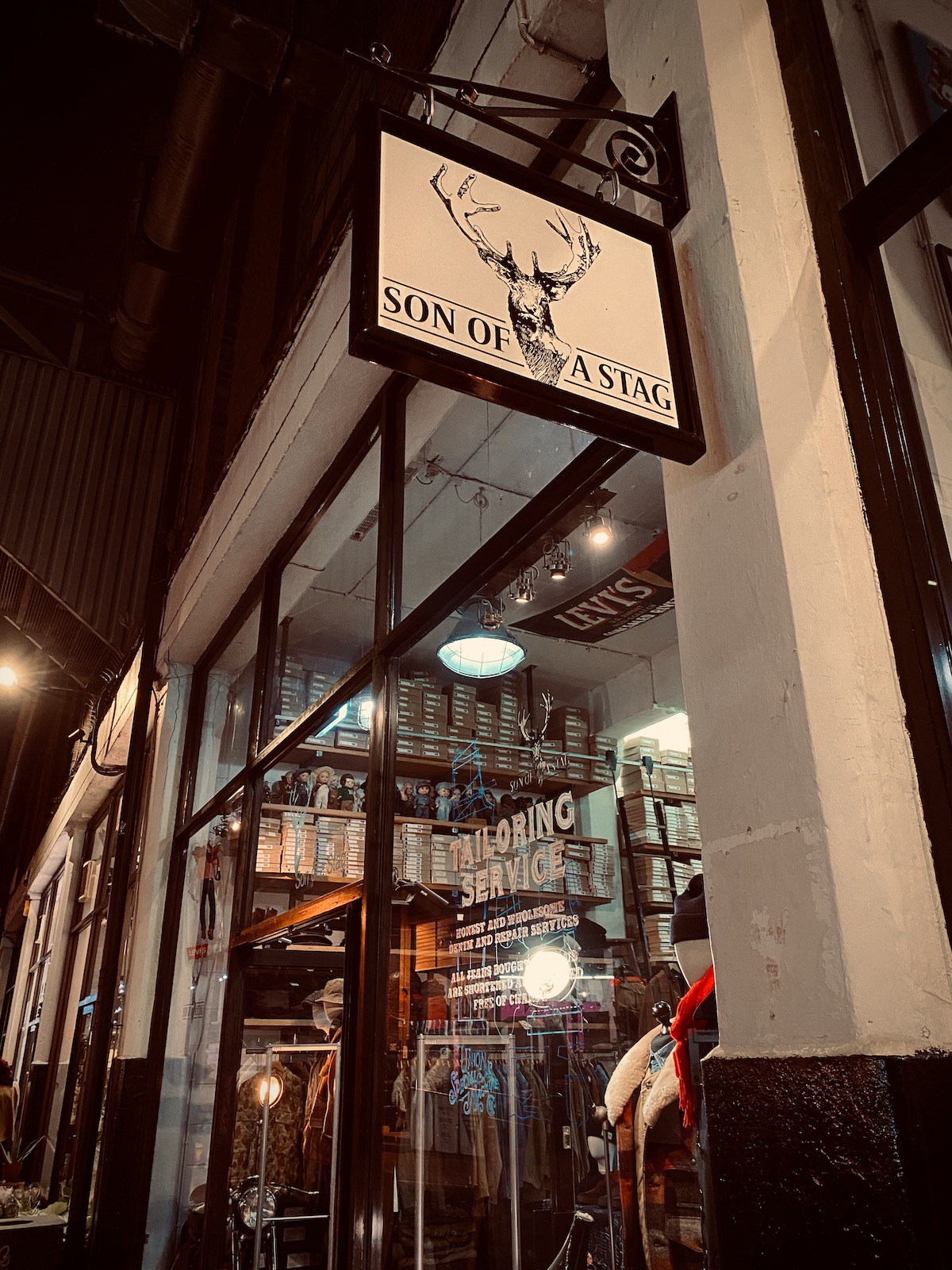 Founded in 1993, Son of a Stag was miles ahead of the pack. By the time the selvedge revolution was truly under way, they were battle-hardened veterans.
I got a virtual tour of the shop when talking online with Linda Reiswick (one of our judges this year), but this didn't prepare me for the experience. It was an Aladdin's cave of denim and well-made goods.
At the front of the shop, you'll find tops. They're stacked up in neatly folded piles and cardboard boxes that go all the way up to the ceiling. I climbed the stairs that took me to the back of the shop. The denim was piled high. It's overwhelming, but it makes you feel like a treasure hunter. There are gems everywhere.
Like Rivet and Hide with PBJ, Son of a Stag has gone all in with Oni. They've got more of the stuff than you'll find anywhere else, and you can really see that everybody at the shop is passionate about the brand behind Secret Denim. You'll also find Full Count, Warehouse, Samurai, and Edwin, and a laundry list of European, American, and Japanese brands that are masters of their craft.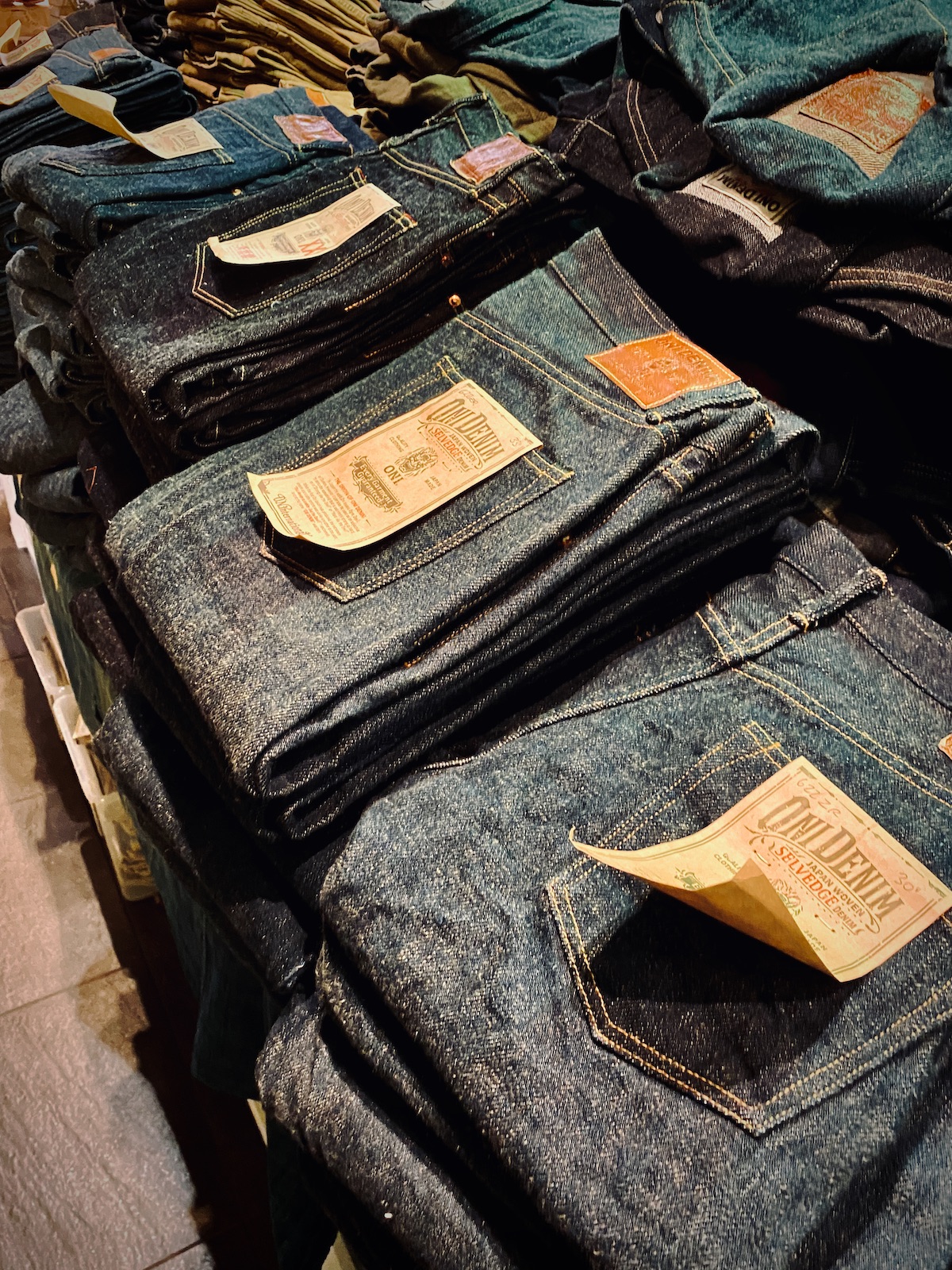 I asked Rudy what I should consider for Year 3, and he steered me towards an Osaka Five brand. "If you want fades," he said, "go with Full Count. Start with the 1101 cut, and if you want something slimmer, go with the 1108." I prefer slimmer cuts, so I grabbed a pair of 1108s and headed for the fitting room.
Like Son of a Stag, this pair has been around the block a few times. They first introduced it back in 1995, and Rudy has been recommending the pair for decades. Customers always rave about the comfort of the generous top block and thighs. They're Fujita-san's interpretation of Levi's 1966 version of the 501, and the baseball-obsessed denimhead has really knocked this one out of the park.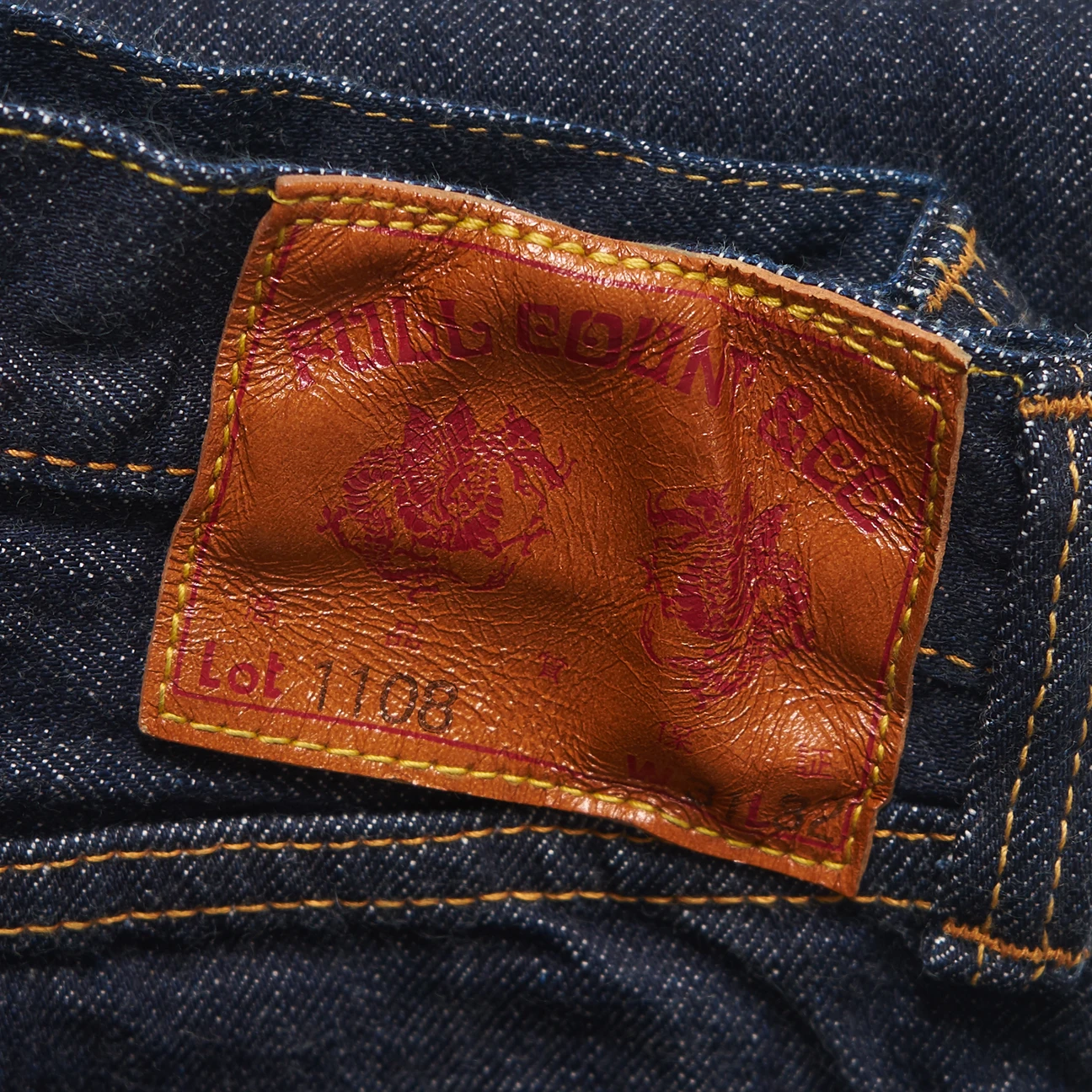 I was head over cuffs in love with the pair, but I could say the same thing about a few of the other pairs I had tried. Rudy said that the most important thing is the fit, and this tipped the scales. The Full Counts were the best-fitting pair of the bunch. Still, I wanted to think on it. I thanked Rudy and left the shop, heading for the train station.
By the time I was halfway home, I had made up my mind. I returned to Son of a Stag a week later and took home the Full Counts. I'll be wearing them in Year 3.
The Personal Touch
I knew it would be a tough choice, but I wasn't prepared for how difficult it would be. There were so many great pairs, so many great brands that I had yet to discover.
It wasn't just about the selection, though. What made all the difference was the personal touch. All of the shop owners and staff that I talked to had different opinions about what makes the perfect pair of jeans, but none of them pushed me towards something that wasn't a good fit for me. They asked me what I was looking for, considered what they had, and made their recommendations accordingly. You just can't find this when shopping online.
It might be a long drive, train ride, or even a flight to your nearest well-made goods stockist, but this journey is more than worthwhile—especially if you can head to somewhere like London, where you can visit a few well-stocked shops in an afternoon.
The merits of each pair can be weighed against other pairs in the shop or other pairs down the street. Best of all, you can try them on. There's still a little bit of guesswork when it comes to how they'll fit after the first wash or soak, but the staff will help you here as well.
If it's been a long time since you've shopped in a brick and mortar shop, use Year 3 as the excuse you need to pack a duffel and hit the road. You'll quickly see what you've been missing.