The Pride of Manila: Léon Denim LD001XX Review
Thanks to absolutely massive participation from Southeast Asian faders, the Indigo Invitational has exposed denim lovers in the West to some of the East's best faders and selvedge brands. We've gotten a taste of what's going on in fade hotspots like Jakarta, Bangkok, Chiangmai, and Kuala Lumpur. With an almost religious dedication to denim fading, the SE Asian faders have blown our collective hair back with their nearly unmatched ability to leverage the sun and heat to produce incredible high-contrast fades.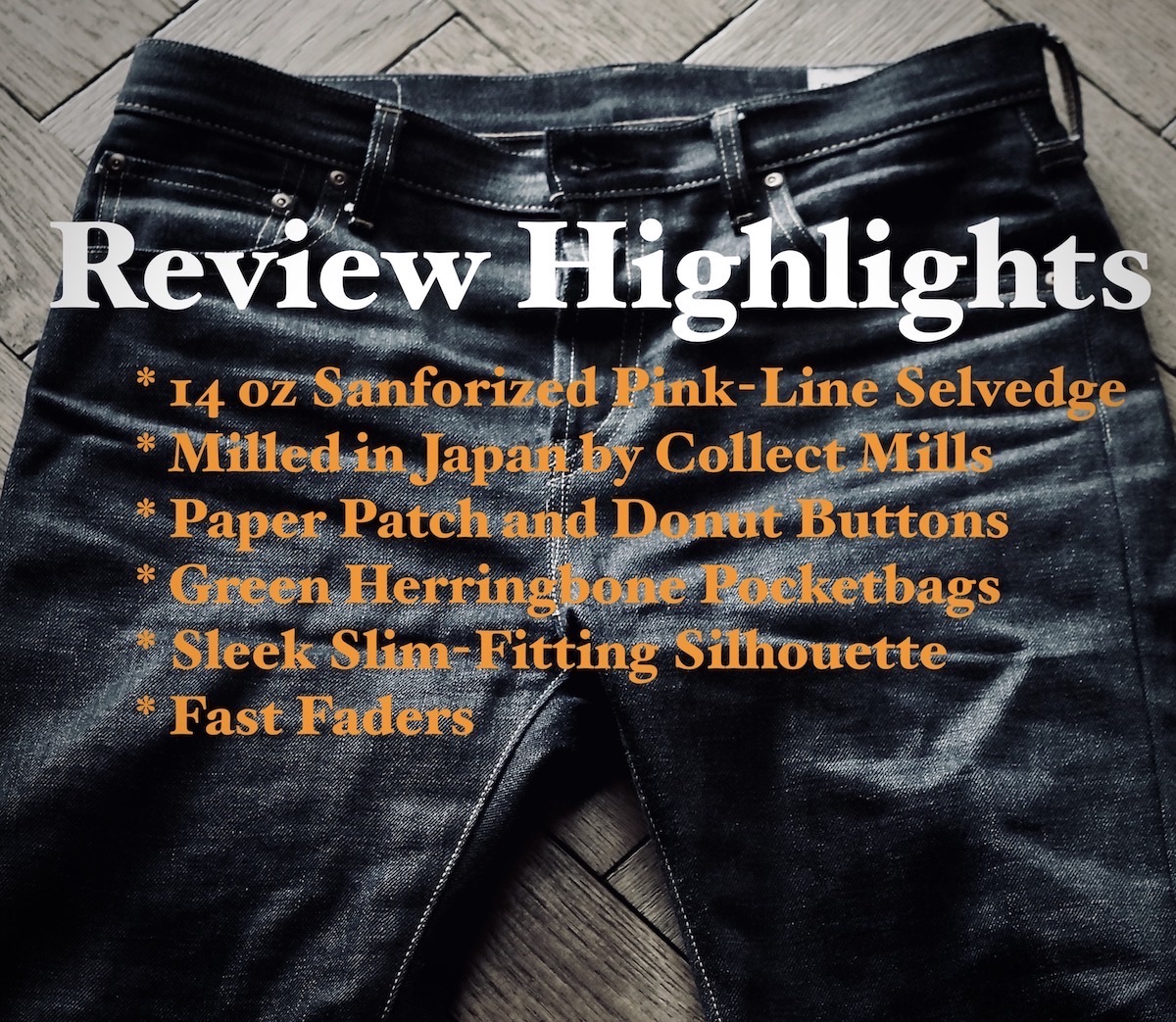 While a good number of the SE Asian faders looked north to Japan for their fade foundation (with Samurai and Iron Heart being perennial favourites), quite a few of them chose pairs from makers that were closer to home, introducing us to some stand-out SE Asian makers in the process. Léon Denim, hailing from Manila, has been one of our favourites from day one.
When Léon Denim first popped up on our radar in 2019, they were still the world's first and only Filipino selvedge brand. The brand started as a passion project in 2014, when Raul Lejano, Iver Aldas, Jake Antig, and Jake's brother Albert decided to turn their shared love of heritage menswear into something tangible.
They recognized that there wasn't a single brand that was even attempting to make selvedge in The Philippines. The jeans that were available locally couldn't cut the mustard. The denim was as stiff as cardboard, and the pairs would either fell apart or shrank three or four sizes when washed for the first time.
They knew that denim passion ran deep in The Philippines, but enthusiasts had to do all their denim shopping abroad. They wanted to change this. They wanted to put Manila on the global selvedge map and give local enthusiasts a dependable and homegrown option.
They began by experimenting with denims, starting with 10 metres of selvedge from an American premium denim wholesaler. Their first attempts weren't exactly market-ready, but they'd made a start, and they were narrowing in on the fit that would soon become their gold standard. They were obsessing over the details, trying to find the perfect combination of hardware, threads, embroidery, and patches and tracking down the vintage machines (Union Specials, Singers, and Jukis) that they needed to bring all these details together in a coherent and well-constructed whole.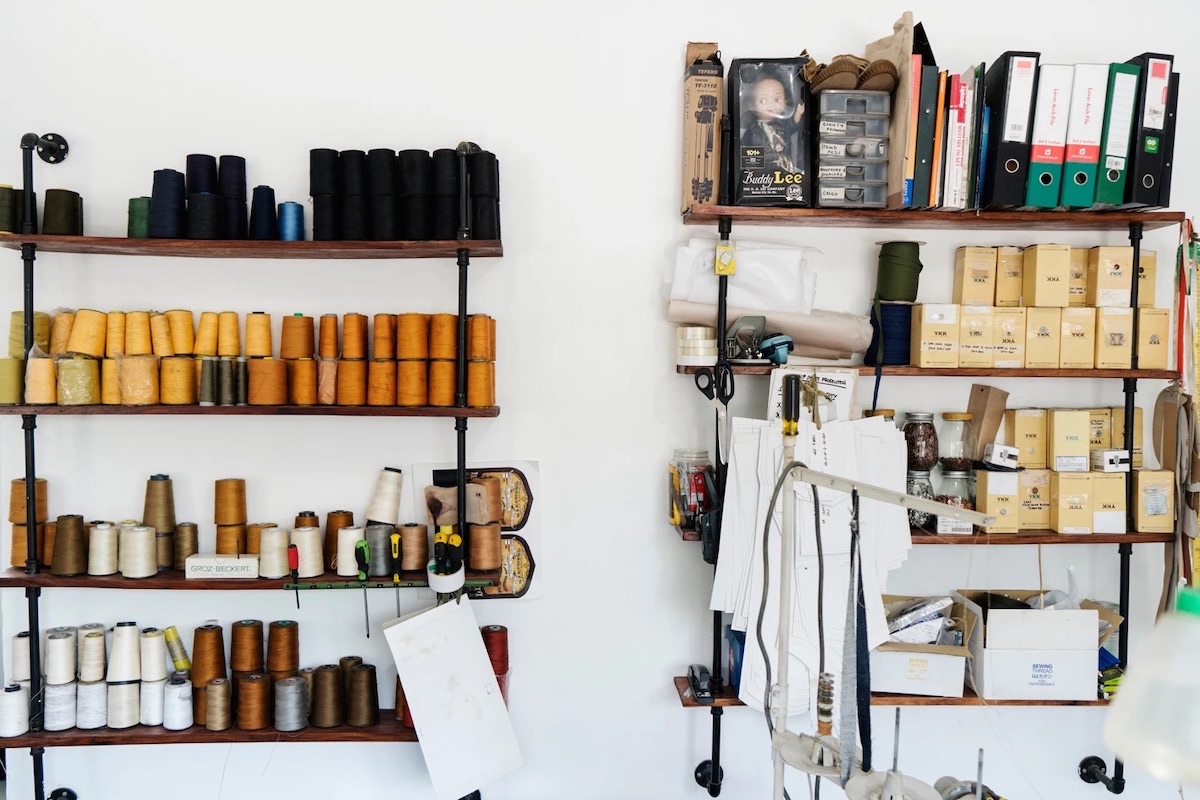 They moved remarkably quickly from start-up to full-blown selvedge house thanks to the ace they had up their well-tailored sleeve. In 2008, Levi's shuttered its cutting and sewing plant in Manila due to rising costs. Denim manufacturing had been a booming industry in The Philippines since the '70s, so when the Levi's plant closed down in 2008, more than 250 denim workers, many with decades of experience, found themselves out of work. Levi's loss was Léon's gain. The fledgling selvedge brand snatched up a core group of expert tailors and pattern makers who were able to help Léon bring a fully matured product to market.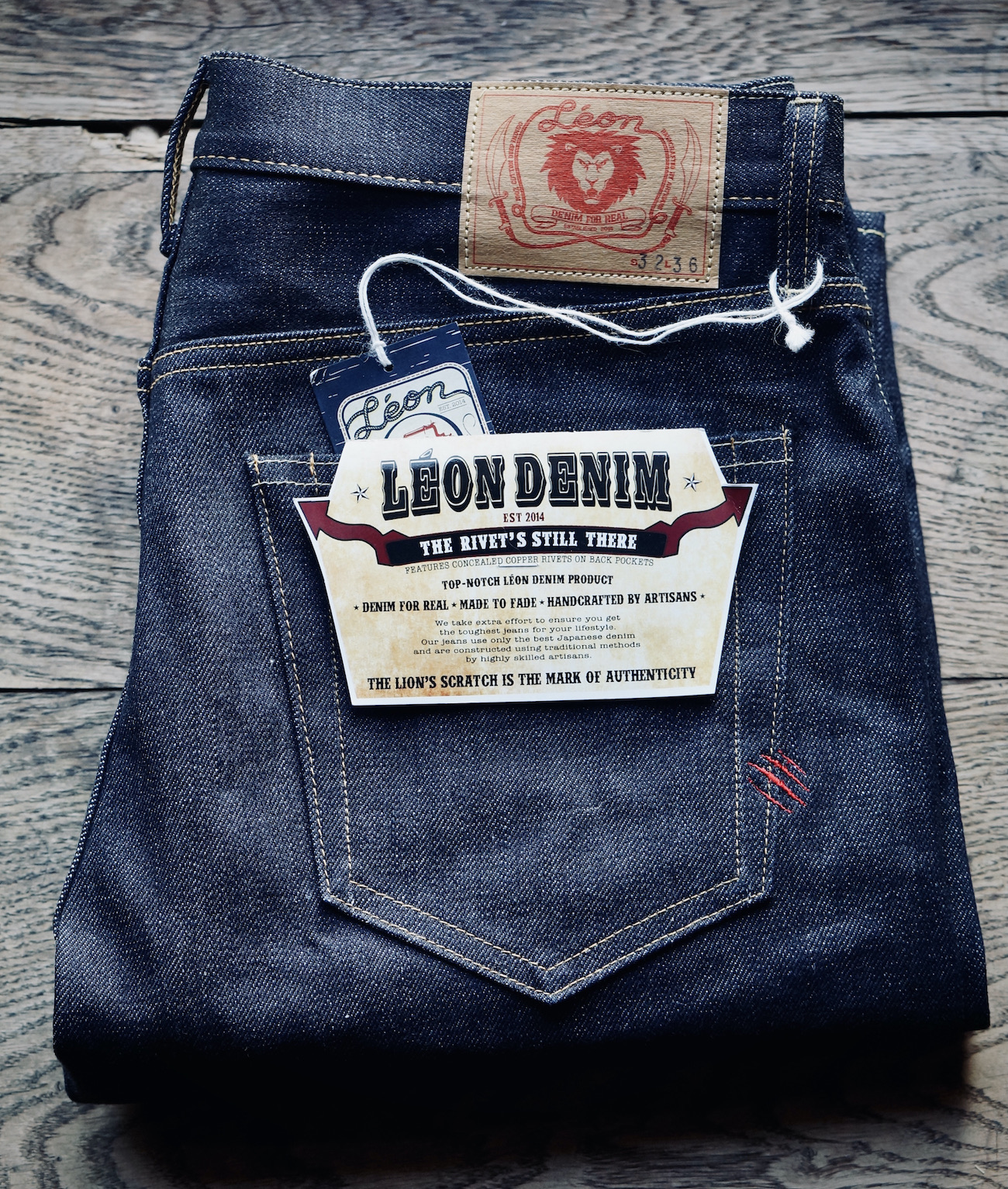 The result was the LD001XX, which Léon debuted in 2015. It's been tweaked a few times since then, but the pair remains the brand's steady flagship. As you'll see in the review below, the pair surpassed our expectations by a wide margin. At this price (around US$140), you'll be hard pressed to find anything of comparable quality. They're a testament to Southeast Asia's enduring love affair with well-made denim, but also to the passion and expertise of the vintage-obsessed Filipinos helming the brand.
Fit and Fabric: Modern Yet Classic
I'm going to start with a word of warning. These are not a pair to leap into without looking carefully at the measurements. Order a pair in your normal waist size without checking the measurements and you'll probably be absolutely swimming in them. I went down two full sizes for a perfect fit, but there's no guarantee that a similar approach will work for you. Check the measurements below and the ones on their website carefully before ordering.
Léon LD001XX Measurements
With Variation from Advertised Measurements
| | |
| --- | --- |
| Size | 32 |
| Waist | 88cm (-1) / 34.5 inches |
| Front Rise | 28cm (+1) / 11 inches |
| Back Rise | 41cm (+2) / 16 inches |
| Upper Thigh | 29cm (-1) / 11.5 inches |
| Knee | 22cm (-1) / 8.5 inches |
| Opening | 20cm / 8 inches |
| Inseam | 93cm (+1) / 36.5 inches **Not Standard: available upon request** |
When I slid the pair on for the first time, they buttoned easily. No need to suck in or strain my forearms to get them closed. This might be because, rather than fastening around the widest part of my hips, they fasten an inch or so higher than my other pairs.
The reason for the higher rise became immediately apparent when I wore the pair with a tucked-in shirt. While the LD001XX look great under casual tops, they really come into their own when worn with tucked in button-ups. The higher rise creates a nicely balanced look between legs and torso that made me reconsider my aversion to higher rises.
The top block is the slimmest part about the jeans. For straight up and down types, it will be picture perfect. It curves very slightly around the hips and fits snugly through the seat. The slanted yoke draws the jeans up towards the waist. Once belted, they are practically cemented in place.
While the LD001XX might give a nice flattening and lengthening effect for those with a little bit of shape around their midsection, it's definitely cut quite slim through the hips. If this is often a problem area for you when trying Japanese brands, Léon can tweak their design slightly for custom orders.
They made the pair above for a bigger fellow, and the pair has definitely seen a lot of time in the saddle—a strong testament to their ability to make great-firing pairs that are a pleasure to wear day after day.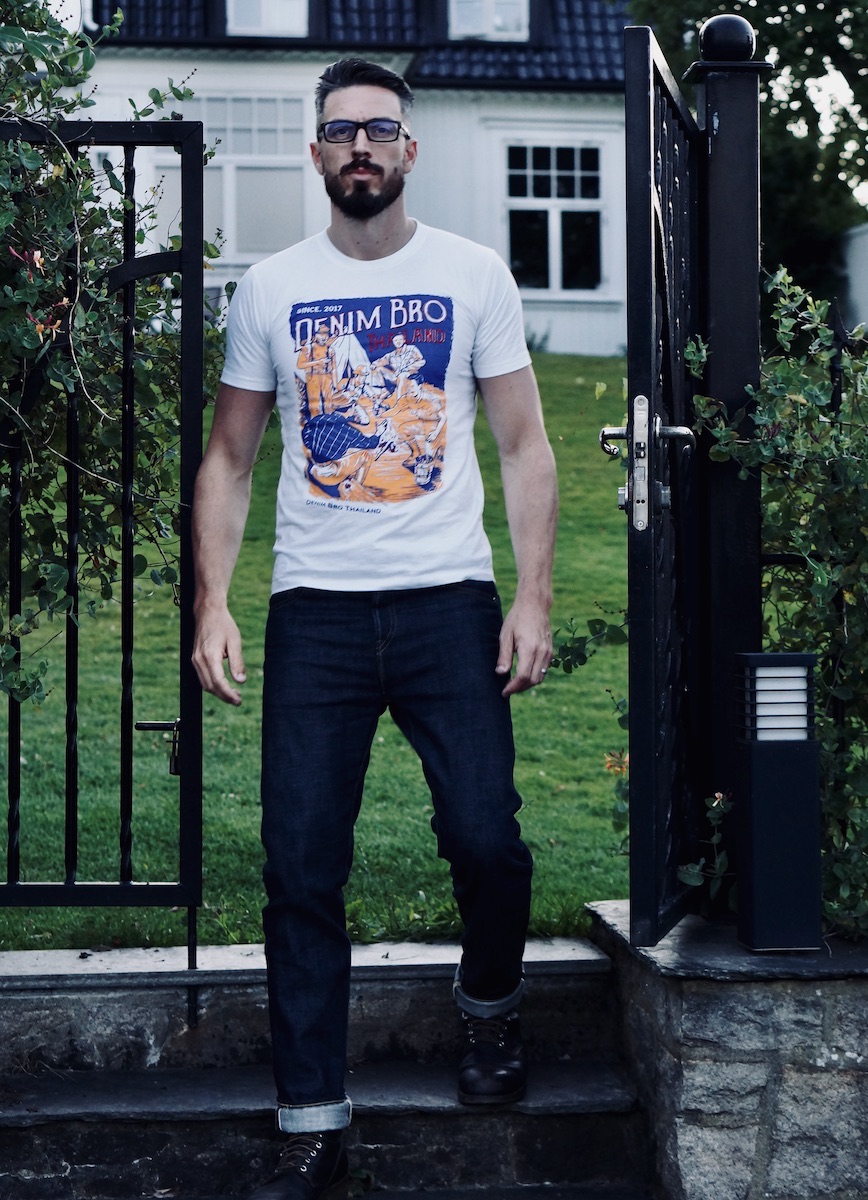 I found my pair exceptionally easy wearing. The thighs are slim but not restrictive. I had no problem swinging my leg over the top bar of my bike and pedaling around town. They taper gently from the knee, giving them a slim and sleek silhouette that is decidedly modern without drifting into skinny territory.
The opening, even when double cuffed, is wide enough to work with everything from sturdy work boots to sneaks and loafers.
Both inside and out, the denim has a remarkably smooth hand feel, even when dry (I still haven't washed mine). Tipping the scales at 14oz, it's smack dab in the middle of that light-middleweight range. Over the years, Léon have released versions of this cut with heavier denims, but I think they've found the winner with this one. They're quietly brilliant, with a loose weave, the slightest touch of hairiness, and a grey tint.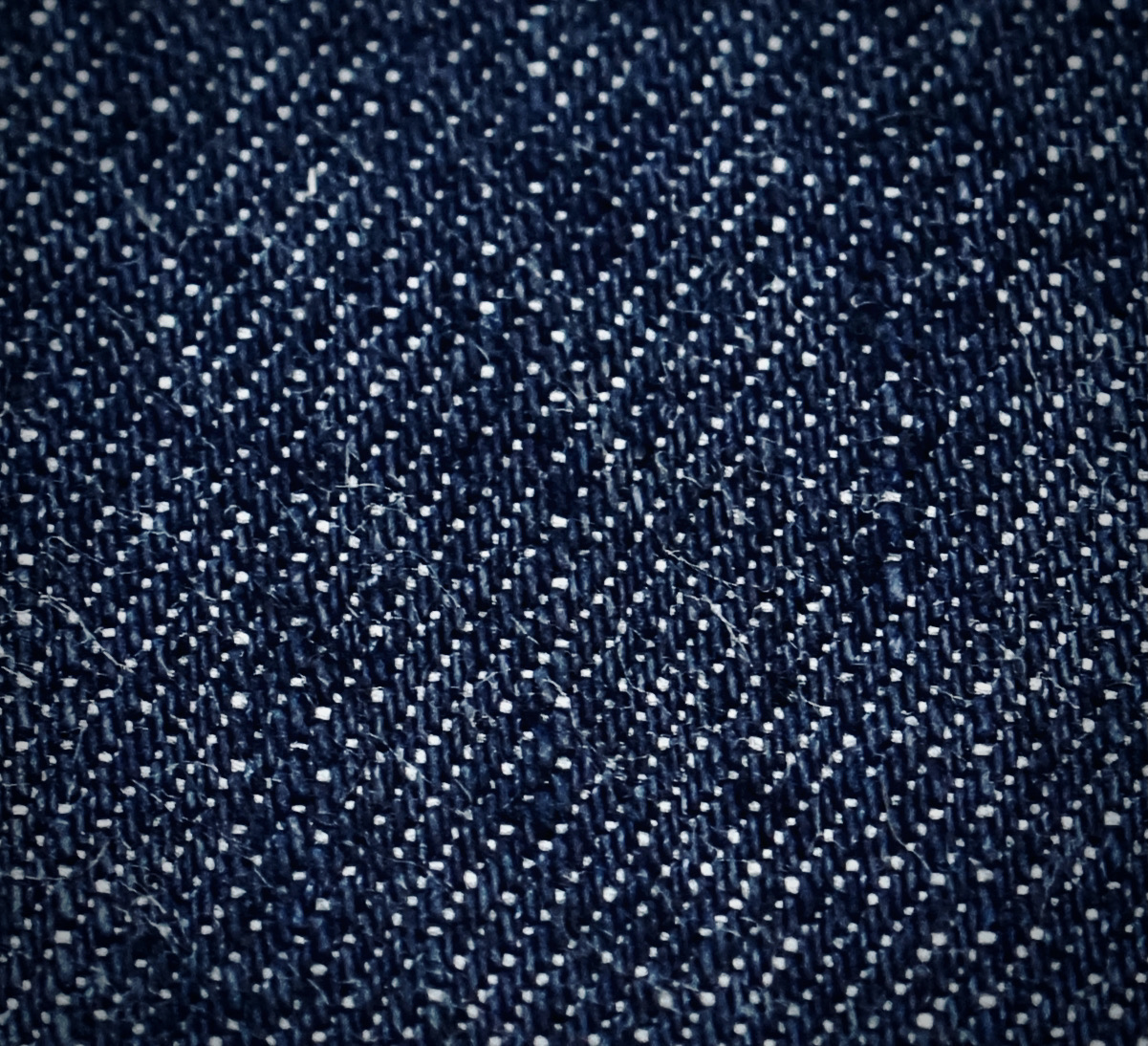 Once again, they've got an ace up their sleeve. They sourced the 14oz selvedge from Collect Mills. Part of the Japan Blue Group (Momotaro's parent company). Collect is not a mill that brands turn to when they are looking to cut corners or shave costs. Their core offerings are relatively conservative, but everything they produce is of exceptionally high quality.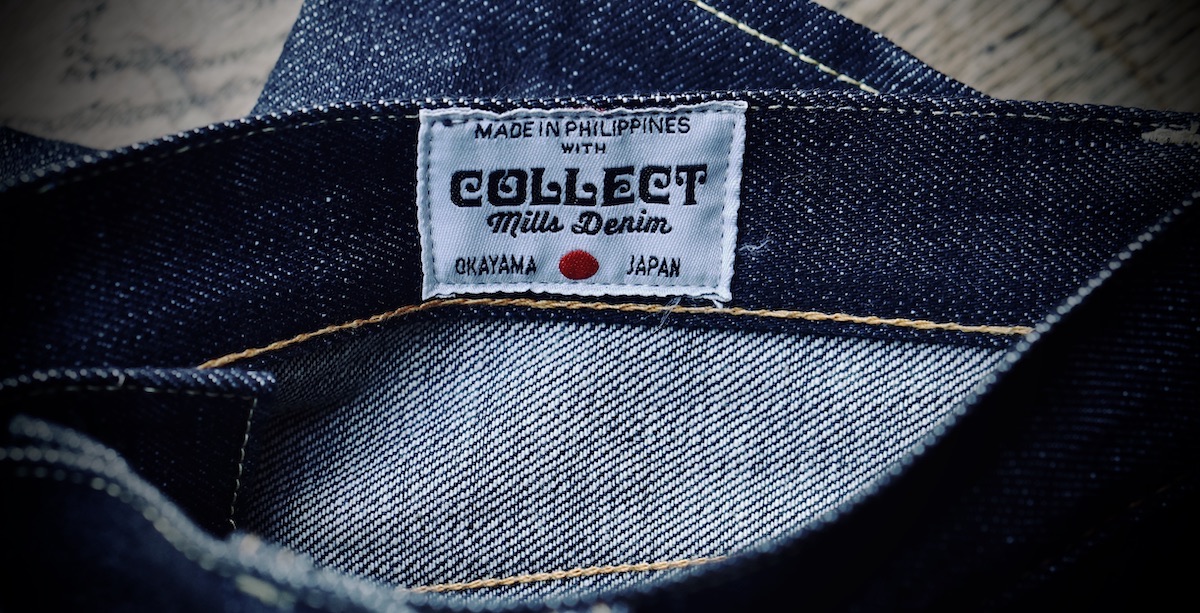 Fade enthusiasts often have multiple pairs bearing the mill's stamp on them in their collections. If you're a fan of brands like Momotaro, Benzak, and Left Field, you'll find the LD001XX right at home in your collection.
The Details: Subtle Yet Striking
The LD001XX match a conservative and dependable denim with rather conservative details. This is one of the things that really drew me to the brand. Southeast Asian selvedge houses tend to go a little overboard with their branding, particularly on their back pockets.
While brash arcuates might make a brand's pairs immediately recognisable, loud and bright detailing overpowers the beauty of the denim and the finer and subtler finishing details.
Léon haven't fallen into this trap. Rather than arcuates, they've opted for an embroidered lion's scratch on the back right pocket. It's a subtle splash of contrasting colour that grows more striking as the jeans fade. Fans of the brand will recognise this detail in an instant, but it's easy to miss if you're not looking for it.
They've used hidden universal branded rivets on the back pockets and unbranded ones on the front pockets. They use unbranded YKK copper laurel leaf buttons for both the top button and the button fly. Branded buttons and rivets are probably in Léon's future, but I don't think they need to put this at the top of their to-do list. It's a nice to have, not a necessity.
Though the cut is entirely Léon's own, the details are unmistakably mid-century. The cardboard patch will moulder and fall apart just like the "leather-like" jacron patch Levi's started using in 1954, they've used a Union Special 43200G for the chain stitch at the hems, and they've used a carefully restored vintage Singer for the waistband stitch.
There's a subtle change in colour and stitch count each time they change machines (you can see this if you look carefully at the pictures above and below). It's stuff like this that vintage lovers look for, and it's one of the big reasons that Léon has built a strong following in the vintage denim scene in both SE Asia and abroad.
I've saved my favourite detail for last. The olive–green herringbone twill pocket bags are, like the hidden rivets, a kind of secret between the wearer and the maker. Nobody will notice them, but you'll know they're there. They had been using canvas bags for years, but they recently tweaked the design.
They're a home run. They make stuffing your hands in your pockets an absolute pleasure.
The Fades: Built for Speed
The pairs that we've had in the competition have done very well, showing that Léon pairs can do more than just look great. They can stand up to the kind of abuse and daily wear that we need to put them through to push them towards their fade potential.
The pairs we've seen in the competition, though, haven't featured this particular denim. To get a good feel for how the pair will develop, we can take a look at this pair faded by Joms, a Filipino motorcycle and vintage menswear enthusiast.
After two years of rolling his Léons through his rotation, Joms took his pair of LD001XX from this:
To this:
The lap fades are a thing of beauty, with nicely balanced whites and indigo tones and the shape of the pocket bags pushing through from behind. The whiskers are soft but nicely defined, and the frayed pocket stitching on the right side is revealing which hand Joms favours.
The Verdict
I spent a week or so in the Léons while I was waiting for my competition pair to return from the shop. The loosely woven middleweight denim is extremely forgiving, so, after only a few days, the top block had already started to lose some of its initial stiffness. By the end of the week, the creases behind the knees were set nicely, and whiskers had started to emerge. These will be fast faders—especially when the sun is out.
The LD001XX will be a great choice for those who want to see fades emerge very quickly. They'll be a very good fit with urban lifestyles—especially for those who regularly tuck their shirts in. They might not be the most rugged or durable pair on the market, but they'll go the distance and then some, fading beautifully along the way. They're also an excellent choice for those who love vintage details but prefer slimmer modern cuts.
We hope to see more Léons in next year's competition. Not only are the jeans great, the guys running the brand are denimheads and vintage enthusiasts through and through. Their love of fade culture bleeds through into everything they do. They're talented, inspired, and hungry. The lion on the badge says it all. They're the pride of Manila.