Piger Goes West: Piger Works 22MD Review
Thai faders destroy heavy denim. In Year One of the Indigo Invitational, competitors from Thailand battled tooth and nail with Indonesians and Americans for top spot on the podium, and we're expecting the Thai contingent to make another run at the crown in this year's finals. As impressed as we've been with these competitors, we've been equally bowled over by the heavy selvedge they're working with—much of it homegrown.
MTO brands like Nama and Choochai Indigo have certainly grabbed our attention, and so too have ready-to-wear brands like Route Blue, Indigoskin, Amory, Denim Error, Big Rig, Mitzahai, and Too Much Blue. Together, these brands are showing that Thai makers can stand tall next to American and Japanese brands, but one Thai brand sits off to the side in its own category. As we'll see in the review below, Piger Works are in a class of their own.
The first time we saw a pair of faded Piger Works, the images practically leapt off the page at us. We knew that there were incredible faders behind these faded examples, but we also knew this was only half the equation. We could see that the brand was doing something special, so we reached out to them and asked them to tell us their story.
When Pig Met Tiger
Piger Works began a little more than a decade ago, when a pair of engineers, Mr. Opaspong and Mr. Kongchuch joined forces. Opaspong was born in the Year of the Tiger, and Kongchuch was born in the Year of the Pig, so they created a chimera of sorts—a name (and a mischievous mascot) that combines the two animals. They shared a passion for denim, but also for engineering. They wanted to combine these passions, bringing some of their engineering knowledge to bear on some of problems inherent to denim construction.
They started by designing a 1950s cut (still their signature fit) that used a 13.5oz Japanese denim. They went over the top with construction, making them the strongest pair of jeans that modern engineering could produce. The first pair (pictured below) emerged from the Piger workshop on April 4th of 2010. They made 75 pairs as a trial run. They sold out within an hour.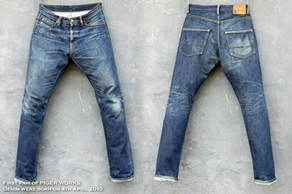 In 2017, they upped the ante in a big way with a 22oz brown-weft denim from Collect Mills. The heavy and indigo-saturated Mudders were a perfect showcase for their durable construction and handmade hardware, and the heavy denim quickly moved to the core of their collection. They've become a popular homegrown option for Thai fade enthusiasts, but they've got much, much more than just that hometown appeal. Just as the Thai denimheads can go toe to toe with the world's best faders, the Mudders can step into the ring with just about any pair in their weight class.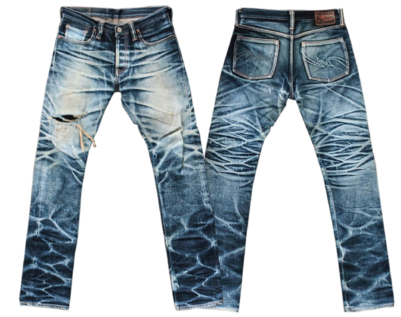 Though Piger Works don't have a strong following outside of Thailand, this may be about to change. Denimheads have slowly been turning their eyes towards Thailand and their world-class faders. Their willingness to wear heavy selvedge in the equatorial sun is a big factor, but beautiful fades are almost always something of a collaborative dance featuring both the fader and the maker. You can't tango without a pair, and Thailand's premier selvedge brands are primed for the big dance.
It's easy to miss this when we focus exclusively on Japanese, American, and European brands. When denimheads in the West start to take SE Asian brands seriously, they'll be helping widen the bridge between the fade scenes in the East and in the West. We've seen this start to happen in Indonesia with brands like Old Blue, and, based on what we've seen in this pair, we think that Piger Works could be poised to do something similar in Thailand.
Piger Works 22MD: Fit and Fabric
Piger uses a form of waist measurement that Western denimheads might not be familiar with. Opaspong calls it the "true waist", and it's measured around the inside of the waistband with the jeans buttoned (all the way around starting and ending at the top button). This adds an inch or two to the standard waist size, so, using the video below as a guide, measure and pick your size extremely carefully.
Measurements
With Variation from Advertised Measurements
| | |
| --- | --- |
| Size | 34 x 36 |
| True Waist | 92cm / 36 inches |
| Waist (Side to Side x 2) | 88cm / 34.5 inches |
| Front Rise | 27.5cm (+1) / 10.75 inches |
| Back Rise | 40cm (+1) / 15.75 inches |
| Upper Thigh | 30cm (-2) / 11.75 inches |
| Knee | 22.5cm / 8.75 inches |
| Opening | 20.5cm / 8 inches |
| Inseam | 94cm (+2.5) / 37 inches |
A 30-minute warm soak didn't change these measurements at all, so don't expect this pair to shrink at all. You might be able to get a couple of centimetres of shrinkage with a LOT of heat, but don't count on it.
Based on the tale of the tape, the 5S is what you might expect if Iron Heart 634s and Samurai 710s had a baby. The top block is almost identical in measurements to the Iron Hearts, but from there down, it's pure Samurai. Fans of either brand or of slim straights with an aggressive tilt to them will do very well in this pair. The cut is right down main street for those who either want or need just a little bit of extra room in their thighs without swimming in the top block.
The default position for these jeans is definitely straight up and down. They put up a bit of a fight when you swing your legs forward, and it might be a struggle to mount a bike or swing your leg over a fence when you're breaking a pair in, but this is par for the course with heavy selvedge.
What they don't do is lock you in place, encasing you in a tight-laced straitjacket of heavy denim. The top block is definitely cut with Asian hips and thighs in mind, but it's generous enough for those of us with slender thighs. Those with larger thighs might find themselves grappling with the heavy and tightly woven denim for a while, but it won't be a long contest. When they're crisp and raw, hop on the bike or take them out for a few long walks in the woods. Break a sweat in them a few times and you should be able to subdue them inside of a week.
The extremely tightly woven right-hand twill is a purple-tinged blue with just the slightest hint of visual texture. The denim comes from Collect Mills in Japan, but it was dyed by the indigo artisans at Kaihara, who have been dying textiles since the end of the nineteenth century. The denim is yarn dyed, giving it that characteristic even and deeply saturated colour. It's a closely guarded secret how many dips they use to achieve this effect (not even Opaspong knows, but a good guess would be close to 30).
At its core, though, the yarn is a brilliant white that's been untouched by the dye. You can see the white core of the yarns poking out around the buttonholes, giving you a preview of the electric blues that will be the patient fader's reward. The indigo will start to chip away from some of the stiffer edges around the waistband, the pockets, and the belt loops almost immediately, but the rest of the jeans will need a little more patience. As with most heavyweights, it will take some time (6-8 months) before the thighs start to fade in earnest.
If you've never added a brown-weft pair into your rotation, these will be an excellent introduction to the category. They are comparable to other brown-weft pairs like the N&F True Grit and the Strike Gold 21XX, but the best analogue is the 22oz denim produced by Iron Heart for the ten-year-anniversary Pronto x Iron Heart collaboration (complete with baby blue chain stitching).
As the weave relaxes with wear, this will draw the brown weft to the surface. This means that the fades will look dirty, even when the jeans are clean. When combined with the heft of the denim, this makes the Pigers an uneasy fit with more dapper styles. They've been made for the world's most serious heavy selvedge enthusiasts, and they look it. For best results, pair with equally heavy and serious pieces.
Piger Works 22MD: Details
The bold arcuates are one of Piger's signature details. The arcuates are mirror images of each other. On the left, the arcuates spell out the brand's initials in English. On the right pocket, they spell out the brand's initials in Thai.
I will be the first to admit that these arcuates are a little extreme—they leave no doubt that the pair has come out of SE Asia, where makers really love to leave their mark on the back pockets. Faded examples show that the threads lose some of their vibrant yellow colour in time, but the polycore threads won't fray and fall out like cotton ones. If the arcuates are a serious issue for you, they can be removed with a seam ripper.
While I'm still on the fence when it comes to the arcuates, the other bold details have entirely won me over. The blue stitching on the inseam and the chain stitched hems catch the eye, but they don't scream for attention. The combination of the yellow and powder blue threads turns the cuffs into things of absolute beauty. If you're planning to roll them, order them long enough to cuff them the Japanese way (with the chain stitched hem showing above the cuff).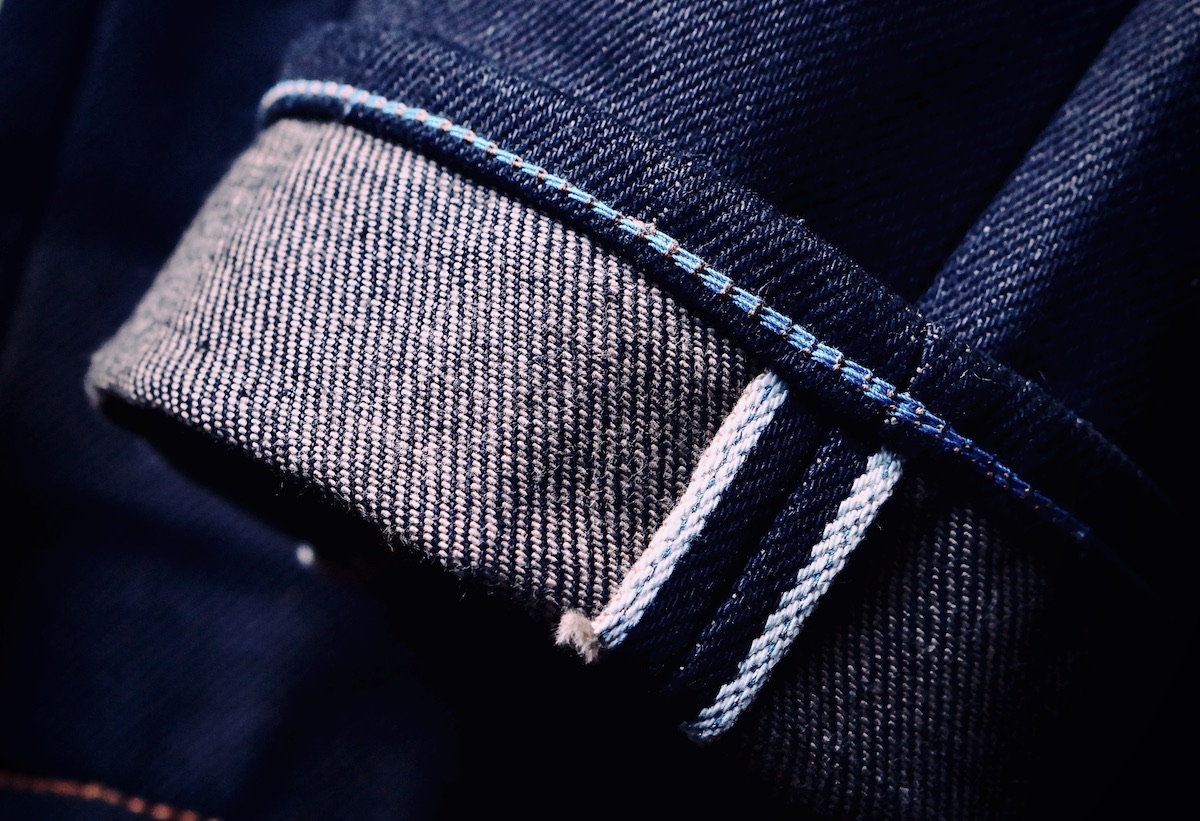 Opaspong and Kongchuch have a shop bursting with vintage sewing machines, and they've fed these machines ultra-durable polycore threads. They've used Union Specials, Jukis, and Durkopp Adlers (German machines with legendary penetrating power), and they've turned the stitch work into a showcase of their engineering know-how.
The triple row of stitching along the yoke and the major seam in the seat might be heavier than is absolutely necessary (not even the superheavyweights from N&F and IH go this far), but it helps explain why Piger Works has an ironclad lifetime repair guarantee. I'm guessing they don't see many pairs come back for structural repairs.
The pockets have a slightly rounded shape that will nicely complement round posteriors (even small ones). If you have a long wallet that normally pokes out of the top of back pockets, this one will probably leave a little more exposed than usual. Those who prefer bifolds or trifolds will have room to spare.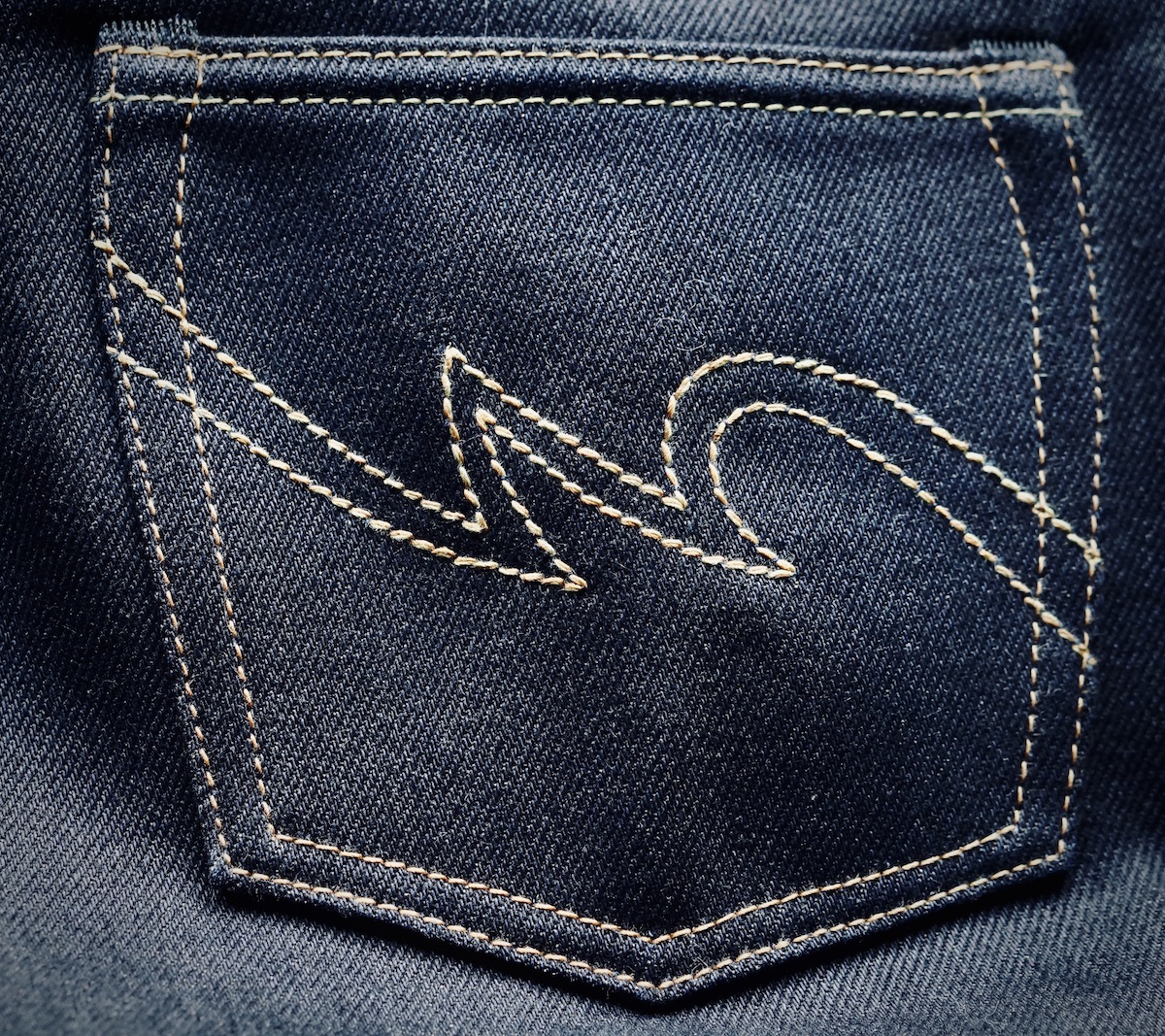 The belt loops are serious business. The loop closest to the back patch includes the selvedge ID, and they've swapped out the yellow thread for the light blue for the bar tacks, giving it even more visual impact. The loops are wide enough that even two-inch belts will slide easily into them (and through the heavy cowhide patch). The raised ridges in the middle of each loop are really raised.
The pocket bags are a sturdy herringbone twill punctuated with Scovill rivets. They've used a lighter-weight cotton twill to line the back pockets (always a nice touch), and you'll find a selvedge ID on the inside of the unlined fifth pocket.
They've opted for heavy bar tacks rather than rivets on the back pockets, which might be a bone of contention for vintage purists. Opaspong's stress tests found that bar tacks are stronger than rivets—and much easier on upholstery. Faded examples bear this out. The bar tacks will stand up to whatever abuse you can throw at them and then some.
I've saved the best detail for last. The copper fly buttons should patina beautifully, but it's the hand-tooled 925 silver top button that has really turned my head. Is a silver button on heavy workwear over the top? As so much else with this over-engineered pair, the answer is definitely. Like all the other details, though, the more-than-necessary approach creates a far-better-than-average pair that demands (loudly and insistently) to be worn daily.
I'm desperate to know how my pair will look and feel after a few hundred wears. If the example below is any indication, the investment of time and effort will pay massive dividends.
Piger Works 22MD: Made to Fade with the Best of Them
I'll let the pictures do most of the talking for me here. Piger Works has a fervent fan base in Thailand thanks to their ability to produce pairs for denim enthusiasts that turn their wildest fade fantasies into vibrant realities. With summer temperatures frequently climbing north of 100 degrees (38 degrees Celsius), the fades cost a great deal of sweat and discomfort, but, as you can see, the results make all this toil and trouble worthwhile.
The rich blue tones and sharp contrasts are what caught my eye the first time I saw a pair of Mudders. There's still life left in the denim after 300+ wears in sun, and there's a beautiful beige tone spreading across the thighs, the seat, and below the knees. The stacks and combs are crisply defined, and you can spot some of those whiskers from a mile away (particularly the one that cuts across Suwit's left thigh).
A close-up look at the right front pocket shows that that intense stitching has given up some of its colour but none of its strength. The bar tacks holding the belt loop in place haven't tired in the slightest, though the raised ridge on the belt loop has certainly been pushed to its limits.
The silver top button is still going strong, and the overall effect is one of the perfect marriage of an absolute fade master and a flawless fade foundation. It took Suwit only 10 months to fade these to perfection. How long will it take you?
The Verdict
It's easy to see why Piger Works enjoy the kind of reputation they do in Thailand. What's more of a mystery is why they don't have more of a following outside of Thailand. While we've seen a good deal of cross-pollination among SE Asian brands (particularly Indonesian ones), all the Piger Works we've seen in the competition have been faded by Thais. We're hoping that this review will change that.
They tick all of our boxes. The denim is milled in Japan (with a brown weft for bonus points). They're over-engineered, and they've got all the bells and whistles. Finally, you get a ton of bang for your buck. They're far from the cheapest pair out there, but to be in this territory for something made in Japan, you'd have to add at least a C-note to the price.
If you're looking for a pair that will turn heads, this pair will do that in spades. If you want to step off the beaten path and see what the Asian brands outside of Japan can offer, Piger will be a great choice. If you want to get a lot without spending a lot, the Mudders are great value. Finally, if you're a fader who wants to make some noise in next year's Indigo Invitational, this pair is an absolute screamer.
Buy the Piger Works 22MD From Piger Works for $245